A day in the life of an alpaqueros
*Hey all. I had some problems with our email delivery so I'm re-posting this*
Life on a farm is not as different as I thought it'd be.
See, Matt is so handy and outdoorsy and I'm such a city kid who'd never seen a live chicken until she was in her late 20s, that I pictured something akin to 'Green Acres': Matt's out swinging an axe and chopping firewood, and I'm getting chased around by a hen that I managed to offend.
But it's not like that! Not at all, guys. We showed up to a 50-acre alpaca farm near Hastings, New Zealand over a week ago and connected with the owners immediately. Their pace of life, their easy-going nature, and their willingness to teach us everything we would need to know here was great. Plus they're just really like-able people. Peter is laid back and sweet, and Sarah is very clever and keeps things running smoothly. We spent almost 3 days with them going through their routines, enjoying a well deserved cup of tea in the afternoon and sitting around the dinner table or the wood burning stove at night and chatting away. By the time they left for their holiday, we all felt very confident in Matt's and my ability to manage things here. Peter had a background in raising livestock, while Sarah was a neuroscientist. They met in the UK, and after a time she decided to retire from that field where they then moved to New Zealand to start a farm. They tried various livestock but now focus on alpaca breeding and showing, as well as breeding labradors and raising chickens. And a few farm cats.
It's been a great time so far and I love how relaxed things are here. While there are always things to do, it's something you can take at your own pace. I've stopped setting an alarm clock and just get up with the sun. The chores involve feeding and cleaning up after the animals and some basic stuff around the property. Matt is working a little extra and teaching himself some new things for his job so the weekdays are usually pretty quiet and we haven't been getting out much. It's nice though since there's a lot of land to roam on, and a lot of good places in the house to curl up with a book. I've read more new books this year than the last five years combined.
Matt's favorite things about coming here have been:
The turkeys are an invasive species here, and are a nuisance for Sarah and Peter because they've gotten into the special and expensive alpaca feed before. There are no restrictions on turkey hunting here so Matt's been using them as target practice. He managed to get one(!) – not in the direction of the alpacas, mind you – and was so excited. The best way to kill them is a shot to the head or neck. They're not very afraid since there are no predators here, and it looks like the flock is actually sticking around on our land, so there will be more in our future. He field dressed it for me outside and brought me the legs and the breasts. I've ground up the meat in a grinder they have and frozen it for a casserole or something. I was cutting apart the meat and bones this morning and thinking, "is this really our life?" Of course since he had not field dressed a turkey before, he was out there in the field holding a knife in one hand with his phone watching a YouTube video in the other.
My favorite things about coming here: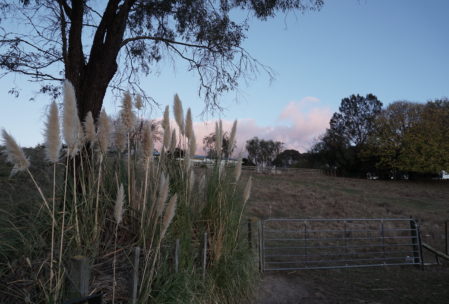 making our own yogurt. Everyone in New Zealand does this, and I've never heard of it before. Yogurt and muesli is like the national breakfast here.
cooking and baking. Sarah has a wonderful, well-equipped kitchen. Earlier this week their friend Alastair came over for his weekly visit to walk through the paddocks and make sure the alpacas looked healthy, and I made a caramel apple walnut upside down cake (yes French friends, it's basically a tarte tatin) for tea time afterwards. It was awesome. Dinner was Moroccan lamb tagine with chickpeas and apricots. Very easy and incredibly flavorful. It was the first time I'd cooked lamb here so far, as it's not that cheap like you might guess – something about the export market being too good to sell it cheaper in-country. But lamb shoulder is a cheaper cut and is just begging to be braised for a couple hours!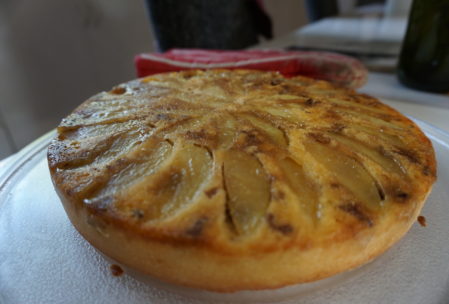 volunteering. I'm helping out with a community meal at our church once a week that provides a meal for families in town who need it. We get to eat and talk with them. I spoke with a lady who is just having a hard time paying her bills as a single mom after they cut her hours at her job from 60 a week to 11. It gives me an excuse to get into town and interact with people and helps me feel like I'm making a difference for more than just the animals at the farm, though that is still important!
the alpacas!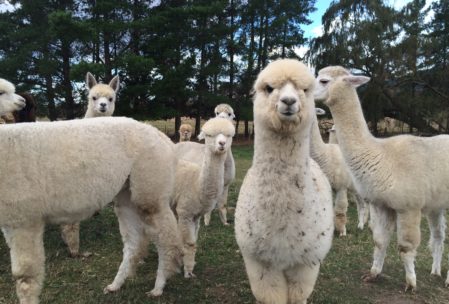 Alpacas are hilarious creatures. They are a smaller and gentler animal than their cousin the llama, and they are also relatives of the camel. They are incredibly curious, and despite the fact that they're prey animals, if you approach them right they will slowly walk up to you. Then, suddenly, they'll decide they don't want to be near you anymore and scamper off. They love to be in herds and don't like to be alone. There are 150(!) of them, and quite a few are babies that were born earlier this year. Here's how amazing Sarah is – she knows what each of their names are and who their parents are just by looking at them. I'm able to tell a few of them apart but 150 of them? Traditionally they're from Peru and are raised for their fleece. People will shear them or butcher them for their meat. These are raised solely for showing, breeding and sale. They're some of the best alpacas in New Zealand, according to someone else who understands those things, and they're really quite nice looking. It's easy to take care of them – we just supplement their grass with some hay since it's been pretty dry all year, make sure they have enough water and look at them once a day to check for any signs of injury or sickness. And that makes us alpaqueros: alpaca caretakers. They've gotten relatively used to me but they're still quite shy, so I've found it's best to grab a handful of hay. The bold ones come right up and start eating it, and spit at the others that try to come nearby. They don't generally spit at people though. Every other week we move a couple of the groups to a new paddock to allow the grass to grow back. I'll try to get a video next time we do that, because they do this adorable thing called "pronking", where the younger ones will do this joyful prancing run across the field.
And I know why you all wanted to read this post…so here it is.
Categories: New Zealand