Amsterdam
November 29, 2016
Article
We had a chance to spend 2 weeks in Amsterdam between our Scottish and Canadian housesits. It so happened that we had a couple weeks left on our EU visa, and that it would fall right on my birthday, and I'd always wanted to visit the Netherlands. Amsterdam is frequently referred to as 'The Venice of the North'. While most Americans might think it's just the Las Vegas of Europe, where anything goes, that's actually false. Sure, you'll see the young and dumb American college students roaming the streets of the red light district high on..something..but there's so much more to Dutch culture. If it were merely Las Vegas, it'd be all brothels, pot cafes and no culture. But the city is gorgeous! It's full of canals, bikes, beautiful buildings, friendly people and delicious food. Here's some interesting facts about the country:
They have such a low incarceration rate and such a high success rate with reintroducing criminals back into society as productive citizens that they actually have to

CLOSE prisons or convert them into a hotel

because they don't have enough inmates. What gives? For one, they view drug and alcohol additions as a health issue, not merely a criminal issue, and tailor the treatment appropriately, rather than a blanket incarceration. 57 people per 100,000 are incarcerated there, vs 716 people per 100,000 in the US (we have the highest rate in the world).
There are 2 bikes for every 1 person in the Netherlands. The average Dutch person cycles 1.5 miles per day. Around 70% of the commutes made into Amsterdam city centre are by bike. They have 7000 miles of paved, wide and well marked bike lanes around the country. There's actually one way bike lanes on either side of the street, almost its own road that's just for bicycles! And since the entirety of the city of flat, the only incline you have to climb are the canal bridges.
As such, they are an incredibly healthy people, with one of the lower obesity rates in Europe (and far behind the US). Everyone was thin and attractive from all that riding!
Think all the cycling would be unsafe? 10.6 people per 100,000 in the US die from traffic incidents. Only 3.4 people per 100,000 in Netherlands do. It's like an amazing ballet, watching these people on their bikes. Makes sense though, as they learn to ride on balance bikes rather than with training wheels.
We saw an amazing number of young children playing in the streets, being transported around with their parents in a bike seat and sitting in a cafe enjoying a treat with dad after school. They seem to have a healthy work/life balance and a real emphasis on family time.
Netherlands rates #7 in happiest countries in the world. And you can just tell, from being there, that people seem to be pretty happy and at ease. Most everyone speaks excellent English, and many speak at least 3 – 4 languages. We found that even the homeless people were at least bilingual.
Our time was really enjoyable. I had a blast on the bike I'd rented the entire time, riding along the canals. It was cold but not bad if you bundle up. There was something really invigorating getting exercise, and you had a lot more range than just walking. It also ended up being far cheaper for two weeks' rental than getting a public transit pass. Here are some highlights of what we did:
Visited the Dutch Resistance Museum. Very informative about what it was like to live under Nazi occupation during WWII, and the ways that ordinary citizens began to resist.
Shopping and tasting classic Dutch street food at Noordermarkt (open Saturdays)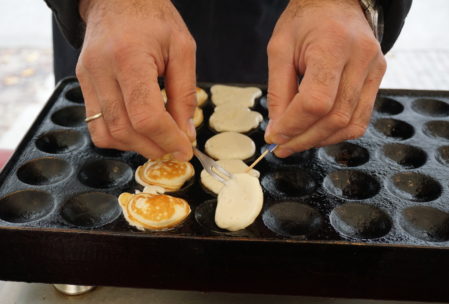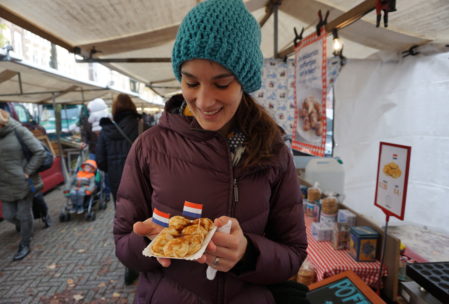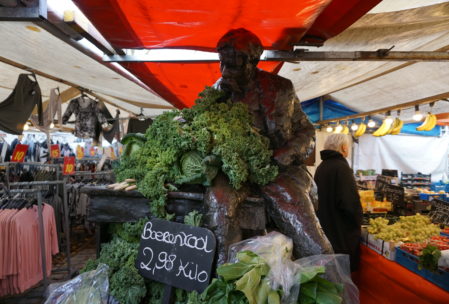 Tried Dutch carrot cake at De Drie Graefjes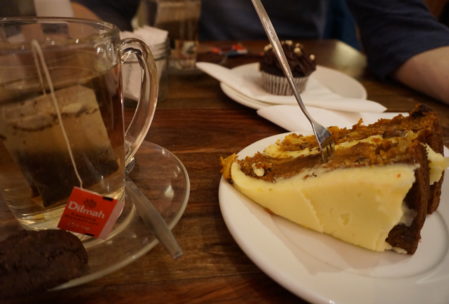 Took the train to nearby Haarlem, only to find that the Corrie Ten Boom museum was closed (sad!). Here's a picture of the outside.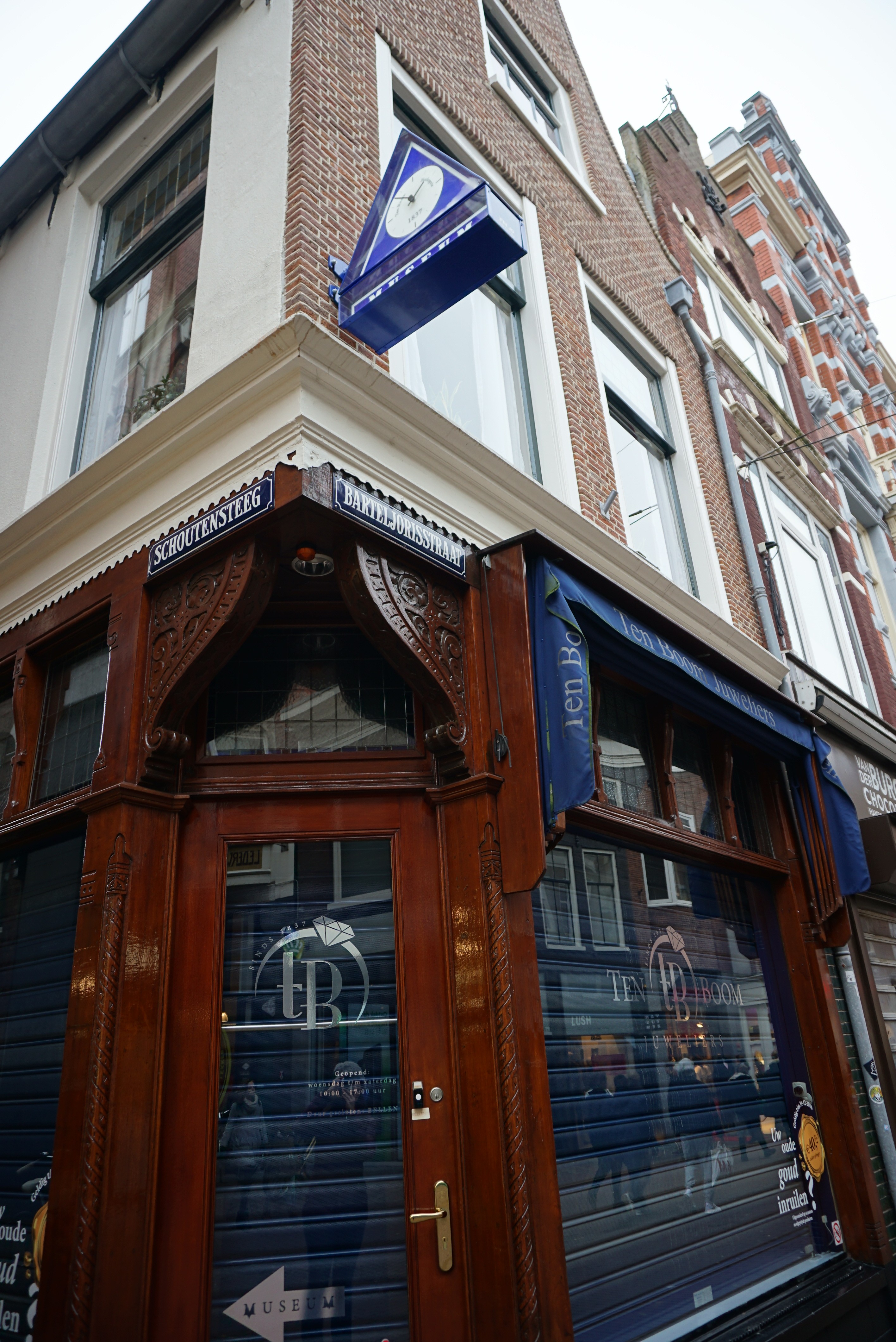 Biked to the outskirts of town where Matt surprised me with a visit to a goat farm for my birthday! We got to pet and feed baby goats. It was kind of amazing.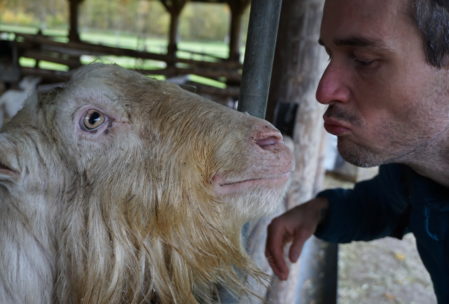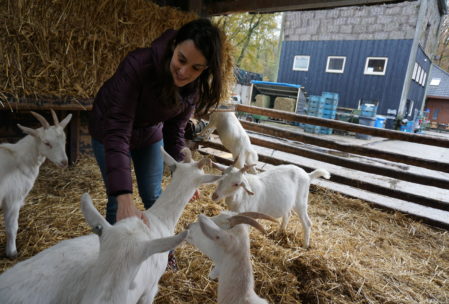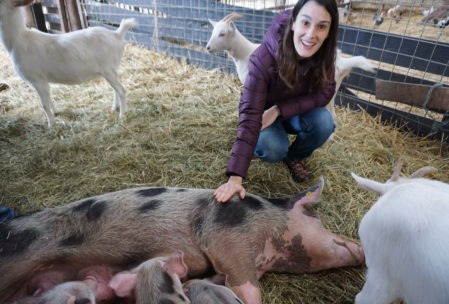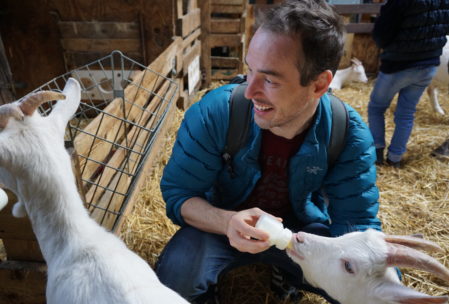 Enjoyed a fantastic meal at REM Eiland, a beautiful restaurant perched on top of an old radio tower in the middle of the grand canal.
Visited a Bruin bar, which are these classic wood-paneled brasseries that focus on serving beer and bar snacks, such as beef ragu that's been breaded and fried (bitterballen) and served with mustard.
Took the free ferry across the main canal to North Amsterdam
Wandered around and got lost in Jordaan, a must if you're visiting. It's just an interesting place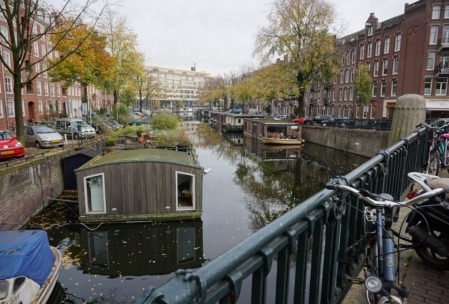 Had legit Japanese ramen and okonomiyaki at Taka Japanese Kitchen, tucked away inside a large Asian market. It was incredible.
That's it! We're in Quebec now at our final housesit, and it feels really good to be back in North America and close to US business hours. We will be home before Christmas!
Categories: Netherlands