Australia!
It's been a whirlwind week and a half! I left New Zealand to join Matt in Coff's Harbour, Australia, where he had gone ahead of me to see his parents on their holiday. We had a great time with them beach walking, hiking, playing cards and hanging out.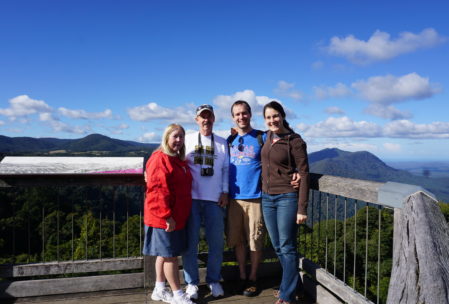 Also, some kangaroos were spotted. Turns out they're similar to the way deer behave in North America. They are also delicious, as we found in a French inspired restaurant later in Sydney.

Coff's Harbour is a lovely vacation spot on the eastern coast of Australia, halfway between Brisbane and Sydney. I get the sense that it's more of a holiday spot for Australians rather than foreigners, and even though it was winter the weather was still beautiful. It was Matt's parents' first time to Australia, a place they'd always dreamed of visiting ever since they got married, and so it was fun to explore it with them and see all of the weird wildlife and plant life that it has to offer. Thankfully, we encountered no large spiders (heh). For me the highlight of the time was a two hour hike around the Dorrigo National Park, a rainforest canopy that is an hour inland and has really fascinating trees and bird species.
Also the cheese class that I took together with Paula, my mother in law. We made ricotta and ricotta salata from scratch. It's so easy!
I hadn't really considered Australia for this year until we started talking to them about a holiday there. It wasn't that I didn't want to go, but in light of prospective housesits I was so excited to spend as much time in New Zealand as possible that I didn't have many goals or expectations for Aus. But I was very pleasantly surprised at how pretty the country was, how kind the people were, and how many places I saw advertised for that sounded like fun trip opportunities for the future.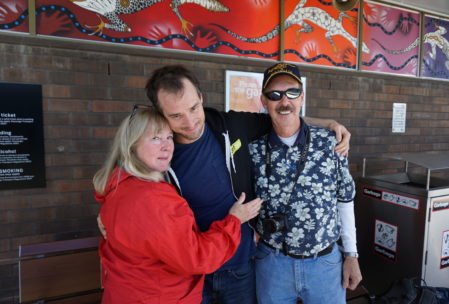 We parted ways with Matt's parents a week ago and took a long, slow train down to Sydney. It's only an hour flight away but we'd wanted to see the coast by train so we took the (cheaper) 9 hour train ride. Probably wouldn't do that again but it provided pretty views.
I was surprised to find clean and affordable budget accommodation in the heart of Sydney's downtown that made everything from the opera house, botanic gardens and cathedral an easy walk. We were only in Sydney for 72 hours but fell in love with it immediately. We had to spend our anniversary apart this year so it was a chance to celebrate that. The weather was beautiful while we were there, and there were so many green spaces, beautiful architecture, great restaurants, nice people, and stunning harbor views that reminded me of San Francisco. The vibe is a West Coast surfer community mixed with European charm. Highlights and things you should definitely hit up if you go are the Royal Botanic gardens, Queen Victoria building, Strand Arcade, Bondi to Bronte Coastal Walk, the climb up and over the Sydney Harbour Bridge (Luna Park, a Coney Island-esque theme park is on the other side), and Chinatown. There is a company that provides free guided walking tours of downtown. If you're determined, have good shoes and are staying in downtown, there is no reason you can't walk everywhere – we did. Also, random shout out but I'm not even kidding: the spicy salmon karaage bowl at Rice Workshop in the Northfields Mall in downtown will change your life.
On Sunday night we boarded an 8 hour flight to Singapore, where we had a 9 hour overnight layover. We splurged a little to stay in the in-terminal hotel (where you don't have to go past security or customs) and it was WORTH IT. Some larger airports have nap lounges or shower facilities, in this case they have all of that plus a transit hotel where you pay in 6 hour blocks to have a windowless, sound proof room and your own shower. I'd highly recommend this if you have a red eye flight in where the layover isn't quite long enough to leave the airport. Book in advance if you can so you're not disappointed. We then boarded a 13 hour flight to London on an Airbus A380, a giant behemoth of a plane that carries at least 400 people.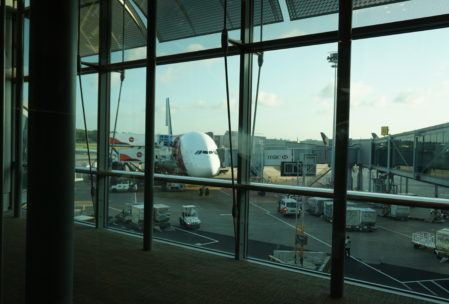 It had been my personal travel goal to fly on one of these, but since no US airline has one and they're only used on really long haul flights, I didn't know that I'd get the chance. We had seats on the second floor (there are two floors, people!) and it was really cool. I used the staircase as often as I could because of the pure novelty of it all. The service and food and aircraft just cemented for me why Singapore Airlines is the best. If you have a chance to fly them, do it. It makes flying on Delta feel like a cattle car in comparison.
We're doing well in London so far. We've finally left Asia Pacific after spending the first half of our year there, moved from winter straight into summer, and back into the hemisphere we know and love. I will post on that another time, as I will have a lot of pictures to share for the week that we are here.
Categories: Australia