Bangkok: Koh Kret, shopping and (of course) eating
We are currently in Christchurch New Zealand, but before I can talk about that I wanted to post some pictures from our second week in Bangkok. The temperature difference between the two places is pretty stark. Our first weekend in Bangkok, we met up with our friend Kevin for a trip up to an artificial island north of Bangkok called Koh Kret.
They have a large river that runs through Bangkok, and a lot of locals still use boats as their main method of transit through the city. A trip costs much less than a ticket on the subway or elevated train, though it definitely was a more leisurely pace. We took the train out to a river dock and hopped on one of the express ferries that would take us north. Despite the oppressive heat during the day, the breeze on the river was really nice and provided some wonderful scenery of the city passing by.
Here you saw shacks barely propped up on stilts right next to new steel and glass buildings. Just another stark reminder that Bangkok is a city that is constantly changing. We took it as far north as the ferry went, and then switched to a local water taxi that fit just the three of us and the driver. It was definitely smaller and more tipsy than the large ferry, but no one fell out!
Koh Kret is an artificial island in that it was created a few hundred years ago when they decided that the large bend in the river could be more quickly got around if they dug a canal. This walled off the land that was in the river bend, creating an island. Now their main industry is tourism, with lots of vendors selling crafts and unique street food, including those fried flowers and stems I mentioned last time.
There were several temples with performances happening, and a local European-style brewery. We grazed around and consumed a lot of coconut ice cream, cold juices and beer.
The next day we found a church for Palm Sunday, had the best ramen we've encountered since leaving Japan at Chabuton
and ventured over to the largest open market in Southeast Asia at Chatuchak weekend market. I wish we could have walked around there longer, but it's extremely hot and Matt isn't really the most avid shopper.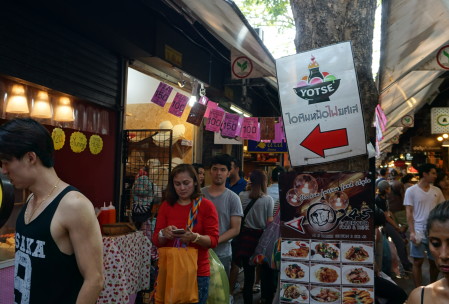 Plus we have to be very judicious on what we buy. Our packs are already just about at max capacity. Here you can find anything and everything, ranging from bulk packs of gift bags to handmade Etsy-like jewelry to shoes to $2 t-shirts and everything in between. There are 15,000 vendors, and the market gets an average of 200,000 visitors every weekend. You can easily get lost and that's half the fun. They have air conditioned stalls that offer cheap ($8) 1 hour foot massages, and lots of food stalls offering ice cream, drinks, street food, craft beer, everything. We lasted about an hour and then decided to head home.
I went to a meetup in our last week there at a board game store, where they offer an open night to sit down and play their games in order to find one you like. They also sell wood fired pizzas in case you're hungry. We played one boring game (Love Letter), one impossible-to-beat one (Forbidden Island) and one really fun one (Jungle Speed).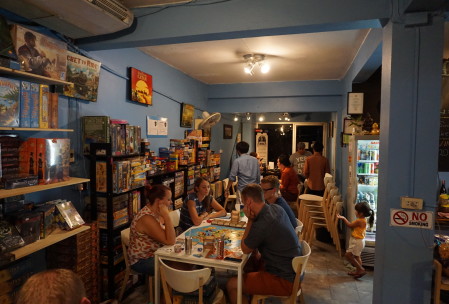 And that's it! We shipped out this past Saturday with a layover in Singapore. They have the most amazing airport I've ever seen. It's new, immaculately clean, and has a free butterfly garden that you can wander around in during your layover, and a free movie theater where they play just released movies in an auditorium.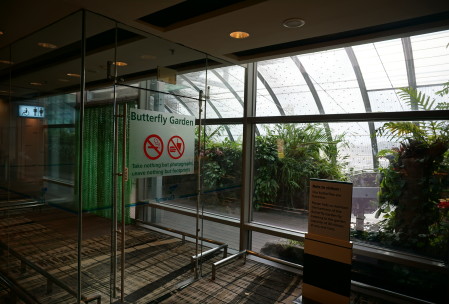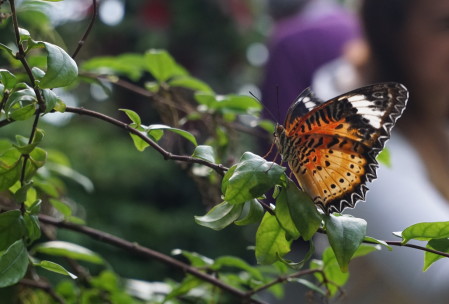 They also have comfortable lounge chairs that you can stretch out and sleep on, and some really high end stores if you feel like dropping a lot of money (I hear Singapore is known for their epic malls). This was the hub of our airline, Singapore Airlines. They weren't quite the cheapest option but they were the fastest trip time, 16 hours total, and since their first class is legendary, I've been following some travel hacking sites' recommendations to try to earn our way towards that. We'll see if we ever score a free or very cheap first class flight with them, but regardless it felt like a very fancy experience back in Economy. Upon boarding, you received a free newspaper and a hot towel for your hands and face. Every seat had a pillow and a really large fluffy blanket (sorry American but yours barely covers my lower half).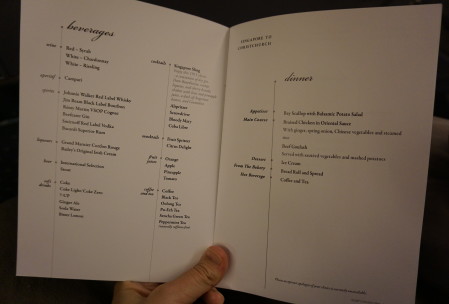 The seats felt a little more spacious than other airlines. They gave us compression socks and toothbrushes for the overnight flight. Also, the bathrooms weren't closets and all the stewardesses were wearing beautiful batik outfits. I'd definitely go with again for a long haul flight if it's not much more, after having subpar experiences with American and United.
I'll save all the good bits for New Zealand next time. We did meet up with our house sit couple and got the laptop charger I had delivered to their house, so that's great!
Categories: Thailand