Beautiful Bali
February 15, 2016
Article
So far Bali has been pretty extraordinary. We arrived here a little nervous on Saturday night, having realized right before we boarded our plane that Indonesia requires an exit ticket upon arrival. Many countries aren't so stringent, merely asking you how long you intend to stay, but some require you to have a plane/train/etc ticket already booked to leave their country so that they can ensure it's within the visa time limits. In Indonesia, a tourist visa is 30 days or less. Every day beyond that, you pay a fine. At 60 days, you face up to 5 years in prison. Their website also informed us that drug traffickers will be given the death penalty. Indonesia does not mess around. So, in a tense 5 minutes before we lost airport wifi, we proceeded to buy a flight to Bangkok in March, thus confirming we will be in Bali for 30 days! We are here because of a housesit that we found online – 5 dogs, 4 cats. It's a little different than the average sit because they don't need us to clean their house, or water their plants or mow their lawn. They just want us to love on their pets.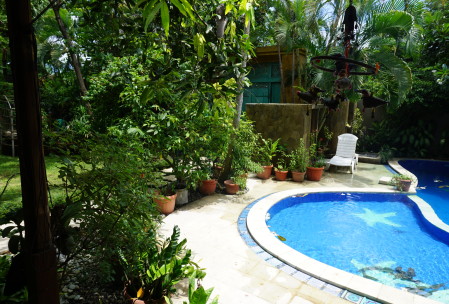 They have a few caretakers throughout the day here cleaning the house, doing laundry (including ours, amazingly), cooking meals if we want them to, tending the garden, and cleaning the pool. It's ridiculous. At some point during the day all of these people head over to the owner's other villa properties that she rents out to tourists. The housekeepers and gardener are all very sweet but speak somewhat limited English, so I'm hoping to learn a little functional Bahasa Indonesian while I'm here, which despite all the local dialects is fairly universally spoken across Indonesia.
Bali is a fairly large island in a nation of islands – more than 14,000 of them! Only 8,000 of them are inhabited. We're staying in Sanur area, and are a few minutes walk to the beach. Sanur is a quieter more mature town compared to more party central places like Kuta, but there's still plenty to do here. It's very safe and I've met three women so far who live by themselves after they decided to become ex-pats years ago. Matt hasn't been feeling well (he's getting over a sinus infection) so it's been a slow couple days. I found a grocery store within walking distance, though they have Uber for getting around as well. Swam in the pool at least once a day since it's quite hot here and very humid. Average temperatures are mid to upper 80s, and even though we're in the rainy slower season here, the weather has been much less rainy than normal, which is exactly what they said in Malaysia. Thanks El Nino? Something unusual about Balinese houses is they rely very little on air conditioning. It's in all bedrooms but there's also ceiling fans in every room and during the day all windows and doors are open.
We live in a kind of compound so the high garden wall and garage door keep people from wandering in, but within it, the house is totally open. There are large folding doors that open from the living rooms, dining room and offices onto the veranda that are kept open for the sea breezes to roll in. Our shower is outside open to the sky, and since all of these rooms are open, at time of writing I see one gecko on our ceiling and one on the wall. Matt had one fall on his head earlier today. They're small and harmless and eat bugs so it's good to have them around. Other than that, the mosquitoes don't seem to want to come much into the house, and we have a mosquito net on our bed if they do.
The dogs are very sweet and interactive:
They're a lot of fun and are starting to really feel comfortable around us, though it's clear they all miss their owners. The cats don't come around much except for mealtimes. There's also an aviary with several birds and a couple of guinea pigs in the garden.
Matt had more strength today so during his break from work we walked to the beach and had an amazing lunch out there. It was an array of traditional Indonesian food and was all amazing…we had a hard time finishing it. Matt was delighted to find that beer is much cheaper here than Malaysia.
Speaking of food – so groceries have been interesting. Every country we've visited so far, I've really enjoyed walking slowly through their grocery store and seeing what kind of products they have and how much they cost. It's fascinating – Japan had an amazingly vast tofu section, and two short shelves for tiny boxes of cereal, and Malaysia was all about the 3-in-1 coffee packets (coffee, creamer and sugar for all your diabetic needs!) and tea. Probably because there are a lot of expats here in Bali, they have a fairly internationally diverse offering…for a price. If I want to buy rice and eggs, it's quite cheap. But peanut butter, pancake syrup, and butter? Not so cheap. And yes, I bought all of those. We had to. 95% of our meals until now have been local foods. After a while though you just really want a pancake or a greasy burger. Problem is, pancake mix here is weird. While the texture was right, the flavor was fake and weird. Same with the strange-tasting butter – why would you ever feel the need to add skim milk powder, water, vegetable oil and butter flavoring to cream? Why?? (that last one upset me more than it should have). The best part was the premade bolognese sauce. If you've ever seen the movie Elf, Buddy is given a plate of spaghetti and proceeds to pour maple syrup on it. the sauce tasted like that. It was so disgustingly sweet, we couldn't finish it. All of this is an interim solution and one I'd like to move past quickly. The goal is to ask one of the housekeepers to make one meal a day for us since we'd like to try Indonesian food – I just need to figure out how to ask them what to buy since we're in charge of groceries. But at least now after today's lunch I know what kind of dishes I want more of!
Categories: Indonesia