Brighton: a royal scandal, unicycling hipsters and cheeky seagulls
September 4, 2016
Article
We arrived in Brighton 3 weeks ago, and have had a great time here. It's such a vibrant and eclectic city. Since the Regency era, it has been known as a seaside resort town to see, be seen and party it up (Pride and Prejudice's Lydia Bennet, anyone?). One of the town's main attractions, the Royal Pavilion, was built by The Prince of Wales, George IV as an escape from his prudish father so he could get away from London in style with his secret wife. Very scandalous. The Royal Pavilion is a shock to see if you're not expecting it, as it takes its style from Indian architecture and seems very out of place in the middle of the city.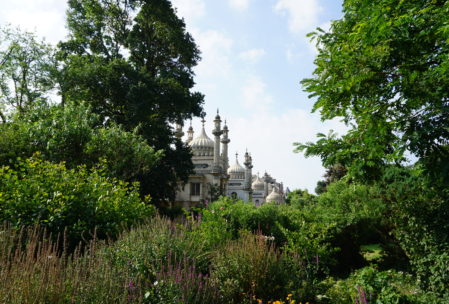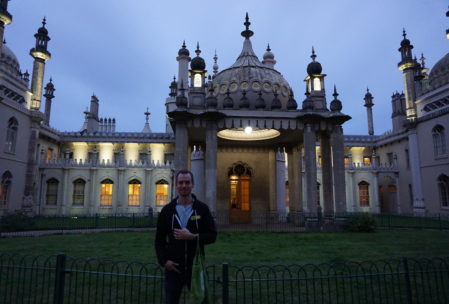 In the last few decades, it has attracted a vastly diverse LGBT/young/old/hipster/crunchy granola/student/anything goes population, who clearly from our outings demand three things: good coffee, authentic ethnic food, and unique bars. I have no idea how this town supports the incredible number of quirky cafes, restaurants and bars it has but it somehow does. You'll see people out until all hours of the night, eating late on open-air terraces, drinking craft cocktails, riding their unicycles and sporting some amazing hipster mustaches and beards. It's like Portlandia decided to move to the UK. A neighborhood near us has not one, but two hot sauce boutiques, where they specialize in sauces all over the world as well as dried blends they make themselves. The word 'bespoke' is everywhere, but it's not used ironically. It seems to be just as important that a cafe make as good a vegan cake as it does an Americano, and for that matter, that a vegan or vegetarian have at least two dozen options of well-rated places to eat out. Including the fanciest buffet I've ever seen. As a foodie, it's almost overwhelming the amount of choices.
But you know who isn't so particular about what they eat? (besides Matt of course)
Seagulls.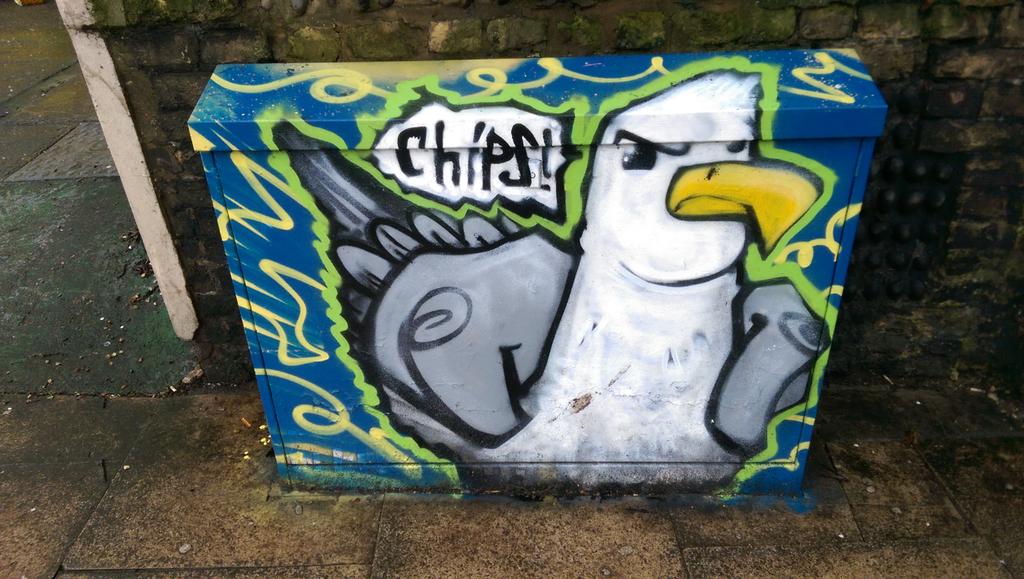 These little twerps are the rats of the air. They love to perch on our neighbors' rooftops at 6 am and call to each other, presumably about where the best trash is. The babies are, inexplicably, nearly as large as their parents. I think it's more charming when you're actually at the seaside, but they've infested our neighborhood 25 minutes away from the shore and won't leave. It starts to fade into background noise but the first week we were here, I was walking home from a French conversation class when I saw one of these cretins walking proudly down a main street, bold as brass. The larger ones are about as big as a small chicken, so picture that. I felt bad afterwards, but at at the time was annoyed with all the seagulls interrupting our sleep so I was thinking, "someone run him over". And they did! It didn't even turn around in time, and the driver definitely did NOT slow down. I'm guessing these cheeky little brats aren't exactly beloved. Case in point – this happened last weekend here. They are brave!
My friend Florianne, who lives in Paris with her fiance Romain (we are going to see them tomorrow!) was actually out in London this week for work and took a train ride down to see me on Wednesday evening. Tip to anyone visiting London – as long as the train actually is on time, it's only a 35 minute trip from London Gatwick to Brighton. She and I had a great time catching up…and I completely forgot to take any photos. But I promise I'll upload some after our time with them next week!
But yeah! Brighton is pretty awesome. The North Laine and The Lanes area of town are fabulous. Vintage dress shops, fancy oyster bars, commissioned graffiti and weird niche boutiques as far as the eye can see.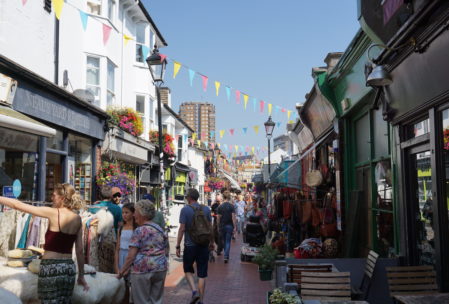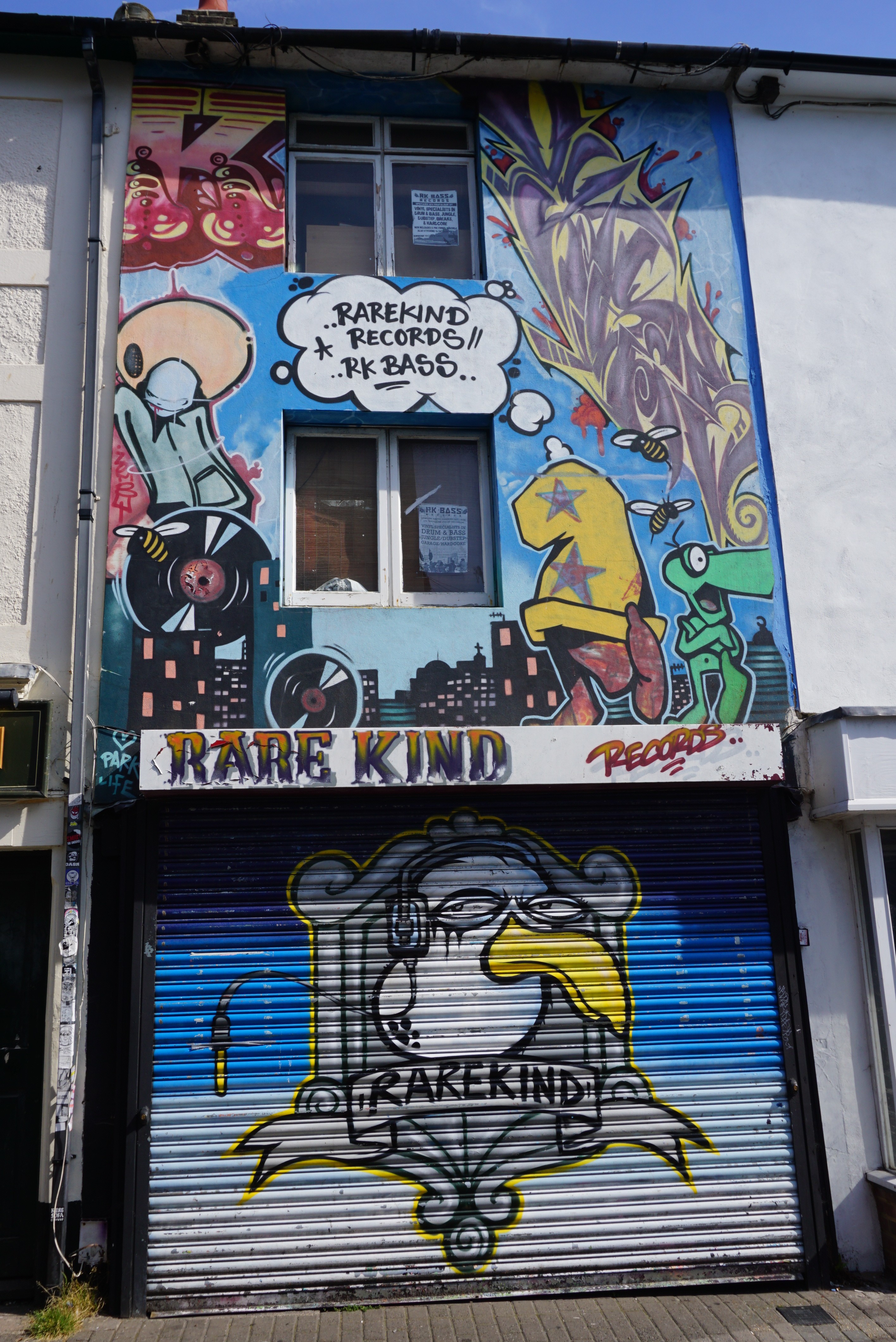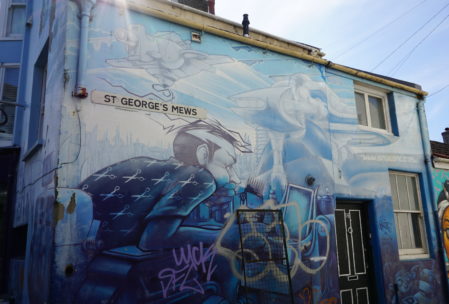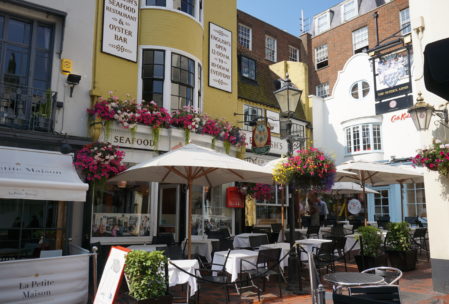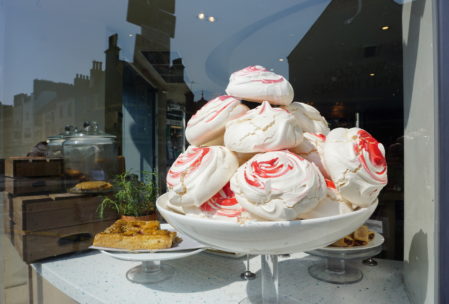 We've been enjoying our housesit, too! We've been in charge of two really cute, really shy tortoiseshell cats. One of them (Moo) warmed up to us pretty quick. Her favorite activity while I'm working on the couch is headbutting me until I pet her. Her mum (Mena) took a long time, and even now will only come up to us if we're seated and quiet, and if we only pet her with one hand.
We met a couple really sweet Polish girls at our church, and I got to know one of them (Monika) well over a coffee and subsequent picnic. She was an instant friend and inspired us to plan our next hop. We didn't really know what we were going to do after we toured around with my parents. Since we were already in Prague, we'll be taking a bus to Krakow in late September to stay there for three weeks. I can't wait! Everyone we meet this year has opinions on where we should go, and Poland consistently came up as a top listing.
That's it! We take the Eurostar underneath the English Channel tomorrow to Paris, where we will be for a week until my parents arrive for their holiday! Should be really fun. Expect next post to mostly be pastry-themed. You'd expect nothing less though, non?
Categories: England