Gong xi fa cai!
February 10, 2016
Article
…is Mandarin for "Happy New Year!" and is said when we celebrate the Lunar New Year, which started February 8th. This is beginning of the Year of the Monkey. We've been spending the last three days with my friend Stephanie's family.
As I'd mentioned earlier, Chinese New Year is a mass exodus home for Chinese people to their home to see relatives and loved ones. Since Malaysia is 22% Chinese, there are a quite a few people here celebrating. I didn't realize this before we came but during the beginning of the New Year there are all of these symbolic things that you give one another (small bills in a auspicious red envelope, since red is a lucky color) and superstitions about what you can and can't do (don't wash your hair for the first 3 days or sweep your house because you get rid of all your luck). I can sum up our time here so far in three ways:
-Food: SO much food. If Malaysia's national sport is eating, and Chinese New Year is all about the family meal together, then this is like the Olympics. All dishes are served family-style in the middle of the table and are very meat-centric. Fish, because the Chinese word sounds like the same word for 'abundance', and pork because it symbolizes wealth and blessings. The meal starts with everyone circling around a plate of Yu Sheng (raw fish, carrots, radish, shrimp crackers, ginger, lime leaves in something like a rice wine vinaigrette) tossing up its contents as high as it will go – the higher the better because it means you'll have good luck for the coming year. Matt took the opportunity to yell loudly as he did this.
Then, plates and plates of food passed around until you're stuffed. Our first meal ended with fruit popsicles, and Matt tried a durian-flavored popsicle. *shudder* Durian is a divisive fruit.
People here either love it or hate it. It's called the king of fruits, has a smell like hot trash that permeates an area and won't leave, and often leaves the eater feeling hot and dizzy. People who love durian here buy it on the side of the road fresh, or in crepes, ice cream, cream puffs, deep-fried, covered in chocolate…I can't handle it. Here's Matt's opinion:
A table full of traditional Chinese snacks is kept at every house and someone's sweet aunt will walk around every 10 minutes and offer you a different one. Many of them are either small savory or sweet cookies/crackers, or deep fried crisps. Her family also loves Ferrero Rocher. I don't know how much I ate and I'm not really sure I want to know.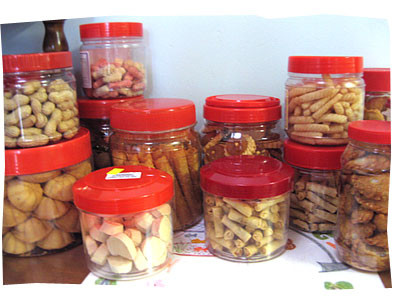 '
-Fireworks: the must-do activity is lighting off a long string of firecrackers that you hang up. But there's also an impressive display of fireworks shows all around – mostly at people's houses. At Stephanie's uncle's house in Johor Bahru, neighbors were going at it with an intensity that puts my own neighborhood to shame. Another tradition is to write your wishes on a paper lantern, light a fuel patch underneath and let it go when it's filled up with enough hot air. I was told that that way, you released your bad luck and sent your wishes into the heaven to the sky god so that he would bless you for the coming year.
We wrote "world peace" but apparently that was too lofty of a goal because it burned and fell to the ground. Or the winds were too high…one of the two.
-Karaoke: every house we've been to this week has been outfitted with an impressive sound system and multiple speakers for a true at-home karaoke experience. Stephanie's father and his two brothers are the most enthusiastic singers of the group and love American oldies and country from the 70s.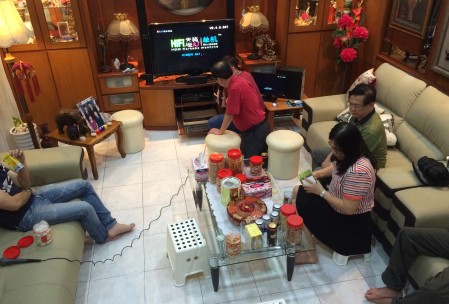 I only sang a few songs but got the crowd riled up and singing along with "I Hate Myself For Loving You" by Joan Jett after being forced into singing it by the uncles and Matt. Everything was recorded by the family there on their phones and cameras and I'm hoping none of it ever surfaces. 🙂
Stephanie's older sister Suzanne has her wedding dinner tonight. She and her Spanish husband (his name is Ignatio but everyone calls him Nacho) were married a few years ago in London but this is the first time they've been able to come back for an official wedding dinner with the extended family. Suzanne's French friend Helene flew in yesterday for the dinner from the UAE where she's been working, so our car ride down to another uncle's house last night was fun. Stephanie and Matt chatting in the front, and Helene explaining to me and Stephanie's younger sister Sylvia about how to remove a duck liver carefully and prepare foie gras. At dinner, the family wanted to honor Nacho's heritage by preparing a giant dish of paella that interestingly enough closely resembles their own dish "briyani".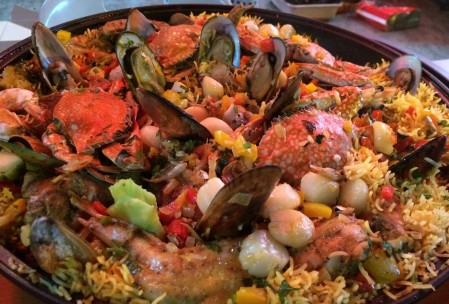 The uncles also kept ribbing shy Nacho to sing any song with a little Spanish in it (including 'Besame Mucho'). Between the Americans, the Malaysian Chinese, the Spanish guy and the French girl it's been a really fun mash-up of cultures and laughs and felt a lot like family. We're really grateful for being included in their meals and traditions and I know that it gave us a really special insight into what life is like in their family.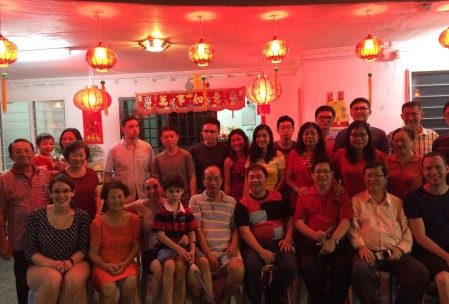 Categories: Malaysia