Goodbye Bali, hello Bangkok!
Our month in Bali was the longest stay in any one location so far on our travels, and it was a good test of the whole "slow travel" methodology that we wanted to be about. There were benefits (you get used to one grocery store, meet your neighbors, get plugged in local groups and a church) and challenges (us humans love familiarity but when you're trying to make a home away from home for a short time, it feels lonely and too temporary to be permanent). That said, it was really good for us to settle in, and one of the huge benefits was feeling like a part of a church family, as well as making new friends. Our encounters with other Westerners so far has been overwhelmingly with Australians, New Zealanders and Europeans. It seems that the Americans that have made it to this corner of the world are in the minority…which to be honest at this point is extremely refreshing. When you step away from your home country, you get to hear outside perspectives on it, and it's entertaining and enlightening. We've met many who love America, or very much want to visit. For many, the main way they've heard about us has either been through news regarding our politics of late, and through movies that may not accurately represent our culture. So many are fascinated with the state of our politics right now; they seem to understand and follow our primary process and candidates way better than we do. So far, I've heard:
"Your country is great: nowhere else do you have incredible artists, next to incredible scientists, next to incredible musicians, next to incredible idiots." -Swedish
"The problem with Americans is that they feel like their country is so large and isolated that they don't have to learn other languages besides English, and therefore they don't travel outside of US borders and learn other cultures besides your own." -French […to be fair we're learning that buying a plane ticket out of your country is a very privileged thing – most of the Southeast Asians we encounter will never be able to afford a trans-Pacific flight in their lives]
"I heard, in America, that if someone doesn't want to work that your government pays them to not work." -Balinese
"Americans are very loud" and "But seriously. This Donald Trump guy? Really?" -Everybody.
One of the good friends we made in Bali is Devi. We met her through a Bahasa Indonesian language group via meetup.com and she was invaluable. She invited me to a free Sunday morning yoga class, took me out for coffee afterwards, showed me around town on her scooter, gave me amazing smelling soap and a batik handbag and found me a private lesson at a batik studio that she assists at for translation purposes (being fluent in Japanese, English and Bahasa!)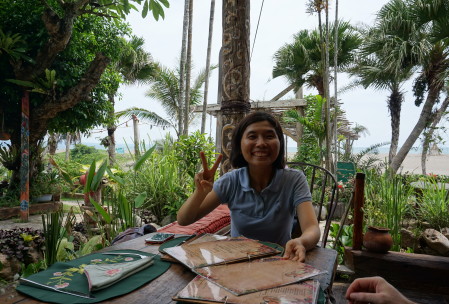 She's a superstar – she zooms all around Bali on her scooter teaching Indonesian to expats' kids, working at the batik studio, and composing, recording and selling her CDs to local massage studios. She was in the process of learning gamelan when I left. She's lived in Japan, the US and all around Indonesia. I really appreciated her friendship and reaching out to me, like when she invited us to join her and Stephan, a Dutch guy from the language group to a local beach to explore before class our last week there. The batik class was awesome, and while my hands were shaky and not nearly as experienced as the older male instructor who has been doing this for 40 years (!) it still turned out pretty okay. Batik is the Indonesian process of dyeing fabrics.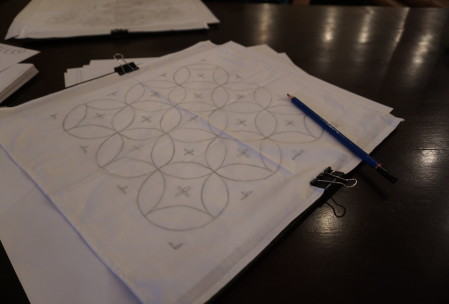 There are several ways to do it but our method was to draw or trace our design on white cotton, trace over that with hot wax that drips out of what looks like a pipe (called a canting) and then dip it in dye.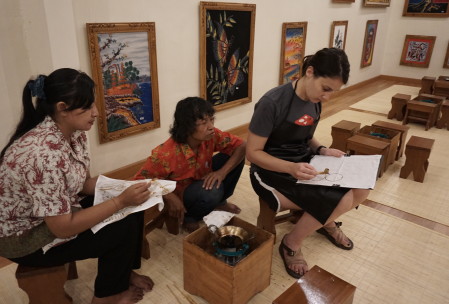 You then boil it so that the dye sets and the wax melts off, leaving the design underneath it white.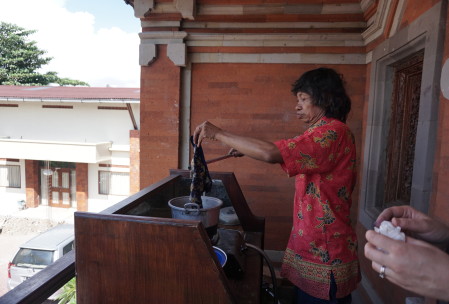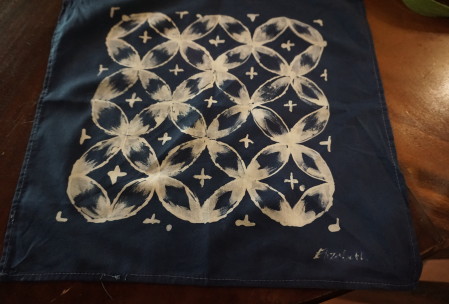 A week ago it was time to say goodbye to Bali. We took a 4 hour flight to Bangkok, capital of Thailand and street food capital of the entire world. I kid you not – I've never seen so many eating options in my life. Everything you want, they have. Including everything you never thought to want to eat. And things you still wouldn't (weird roasted organ meat, I'm looking at you).
We're staying at a wonderful AirBnB here. It's small, a studio apartment that has a sliding glass door between the living area and bedroom so that you can turn on the AC unit in either room for more focused cooling, and a surprising respite from the large open spaces that we've been used to.
We're on the 17th floor facing downtown, and the view is incredible. The view from the pool on the 34th floor is even better.
Our first night here, Matt's friend Kevin met us. Kevin is American but has spent the last two years in Bangkok with his wife Joi as an entomologist studying the spread of malaria in mosquitoes. (Don't worry, no malaria here)
He took us around the public transit system and showed us the ropes, and then took us out to dinner and proceeded to order the best (but also extremely difficult to pronounce) dishes. It's only slightly more expensive for locals to eat out here than it is to cook the same thing at home, so eating out is a way of life. It's a community thing, as all the dishes in restaurants are sized to share, and it's not uncommon for a Bangkok native to sample things here and there throughout their day. When all the food from a street cart can be gotten for less than $1.50, why not? With the aid of a Bangkok Lonely Planet guide, Matt and I took ourselves on a self-guided food walking tour, sampling famous dishes from 5 local restaurants while learning about the neighborhood.
My biggest takeaway is that I'm obsessed with mango sticky rice. This will be happening at home, I assure you. The mangoes here, and all of the fresh fruit for that matter, are very fresh, very cheap and very plentiful. It's almost unfair. I didn't even think I liked mangoes.
Since we've learned that we can't live on just one food type alone, I've gotten some ingredients from the local Tesco and have been cooking a few meals here.
I'll have to compile some recipes together later this year, because it's really tricky cooking in AirBnBs and hostels, and all of the suggestions I've found online sound like dorm food meals: ramen, salads, and pita pizzas. You have limited ingredients, limited pans, limited cooking and prep surfaces, and forget about finding your favorite foods in the grocery store. Mexican food in particular is really the worst. I learned that it's not that hard to make your own flour tortillas, and stumbled upon a taco seasoning packet, so I made tacos the other night and Matt was elated.
Getting around has been just fine. Everyone speaks either enough English to get by, or if not, pantomime and the Google Translate app get you a long way. I wanted to try to learn a little Thai at first, but stopped at 'thank you'. Because Thai is ridiculously hard. I felt stupid after one lesson but we've talked to several expats living here and they all have a rough time with it. The reason is two fold: the pronunciation is staggeringly different than our own, with most consonants being swallowed (so even if you managed to say it right, it's hard to understand others) and it's a tonal language. That means that saying the word 'mai' can have five different meanings: 'new', 'burn', 'wood', 'not?' and 'not' depending on how you say it. The five tones are, ascending, descending, high, mid and low. As a newbie you're just trying to remember the word and how to pronounce it somewhat correctly. Add tone to all that, and all of the sudden anything you learn you probably aren't saying right so no one will understand it. So I gave up. It gave me an appreciation and slight jealousy for all the Thai people who've learned Thai, and all the three year olds wandering around who speak it better than me.
We've been to two meetups from Meetup.com so far: an English speaking one where we celebrated St Patrick's Day at an Irish pub (in Bangkok! It was a little surreal) and a French speaking one where I got to practice my atrocious conversation skills. The nice thing is, I've spoken more French since January on our travels than I have in the previous 9 years combined since college. We've gotten lots of encouragement and advice from our new friends and really enjoyed these experiences.
I'm sorry for not posting more often. My charger kicked the bucket a few weeks ago and since Surface tablets haven't made their way much through Asia yet, it was cheaper and easier to buy one on eBay and wait for it to be shipped. I'll have that hopefully next week when we arrive in New Zealand (!) and will be able to blog more then. Right now I have to find times Matt is not working to use his laptop, so that's a bit more of a challenge, especially when there's so much to explore together!
Categories: Indonesia, Thailand