Krakow
Hey everyone. It's been an embarrassingly long battle with our email subscription plugin – so if you haven't gotten any emails in a while, please check our blog for posts on Brighton, our trip across France and Prague over the last 2 months. I think I have it fixed going forward.
We spent an incredible 3 weeks in Kraków. It's the capital of Poland, and our stomachs. Because, my goodness, given everything we've eaten this year, Polish food is now one of my favorite cuisines. Kraków is a lovely city and like Prague, managed to escape a lot of the structural damage that other major cities suffered during WWII. It's incredibly cheap, very safe, tourist-y but not as busy as Prague, everyone is very friendly and speaks enough English to get by… I honestly had no idea that it was going to be so cool! It was something that consistently came up in people's recommendations to us, and it's opened up a big curiosity to visit the rest of central and Eastern Europe someday.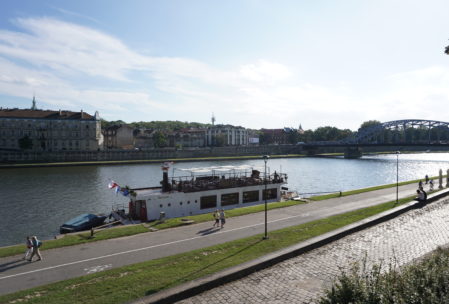 We stayed in a very reasonable AirBnB the entire time and had the flat to ourselves. It was located right next to the old Jewish Ghetto and was an easy walk over to Kazimierz (the old Jewish Quarter prior to WWII) and the old city and palace.
Despite Soviet occupation of Poland, the countryside and city's architectures are lovely and people are extremely welcoming. It seems the young hipsters have taken over Kazimierz, as there are plenty of places to have a delicious coffee, or a round of flavored vodkas for friends, or inventive cuisine at funky places.
To give you an idea of how cheap we are talking:
AirBnB apartment: $33/night
2 course lunch in a typical bar mleczny, per person: $3.50
Coffee: $1.50
Vodka/beer: $1
15 minute Uber ride: $3
After doing the math, it didn't make sense to cook at our flat all the time, so we had lunch out quite a bit. Our favorite were the bar mleczny around town. These are Communist-era milk bars – places where good Communist workers could buy various dairy products but also take their families to dinner without breaking the bank. Several are still operated to this day, and are regarded as the cheapest, simplest food you can get. It's usually served cafeteria-style, where you point to the food you want (or use Google Translate on the daily special to see if it sounds interesting) to the reserved, large elderly Polish woman manning the counter. It's considered simple food but wow is it good.
Okay, so just so you don't get the impression that all we did was eat, we also visited the Palace and its armory.
Went to a cat cafe (again). Look, Osaka was awesome. We wanted more (moar) cats. This one just had reasonably priced coffee, where a cat might come sauntering by and let you pet it. It was a nice little break away.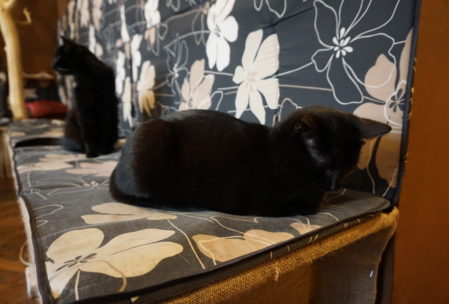 While we were in Krakow, we celebrated Matt's birthday:
We attended a local church that just started a year ago and was planted by Redeemer City-to-City. It was a tiny congregation, and they had to translate everything in real-time from Polish to English, but we felt instantly welcomed by everyone there. We took Saszko, the young pastor, out for lunch last week. He's such a sweet guy and helped us understand the city a little better.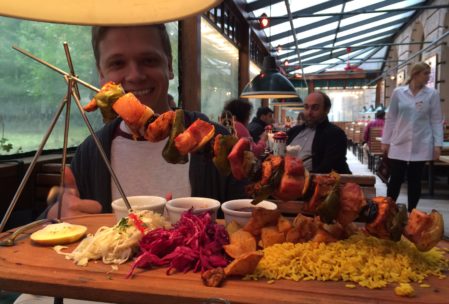 Took a guided tour to Auschwitz. I'll have to post those pictures separate, as there are enough to merit its own discussion.
There is a free walking tour company where you pay what you think is fair. They offer several tours at various times during the day. We enjoyed the Old City tour as well as the Jewish Quarter tour, which covered the history of the Jews living in Kraków until WWII, at which point their population was decimated. It still hasn't really recovered.
It was a lovely and also sometimes sad city, because you realized that walking along a sunny street past sidewalk cafes with care-free people chatting and drinking their coffee, just 75 years ago so many people were ripped from their homes, from their families, and were carted off, most to never return. This was all because a hateful man didn't want their religion, their history, their culture, or their voice in the world any longer. Because he wanted his new world to be homogeneous, where everyone looked like, talked like and agreed with, him. It's a sobering truth, and something that I think should cause a bit of discomfort and pause when to tourists when visiting the European cities that were most affected by the Holocaust.  It's a quiet but urgent reminder that having the freedom to speak and practice as we wish and even civilly disagree with our neighbors about it is a privilege that these people would have longed to have. The city is worse off for not having the diversity of that additional voice. I'll talk more about how Hitler nearly achieved his goal of wiping out every memory, cultural heritage and trace of the Jewish voice in the next post.
Categories: Poland