Kyoto and Osaka
I'm going to cram a few days update into one post because there were a couple days in Kyoto where the most we did was get out for lunch since I wasn't feeling well. But those days of vegging out and watching movies (Independence Day! Will Smith! Aliens! 'Murica!) paid off and we did get to get out on our last day and see Gion District in Kyoto before leaving.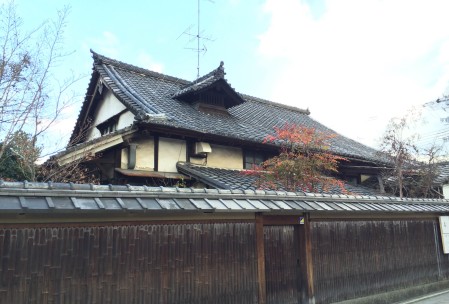 Gion is a fairly well-preserved slice of Edo-period Japan and while it's overrun by Chinese tourists dressed up as geisha, it's so charming that you get why everyone flocks to it. I think most people picture Gion when they picture Kyoto. There are many shrines, temples, traditional candy shops and private teahouses and lots of back alleys for the geiko and maiko (the geisha apprentices) to flit around in the evenings between entertaining guests. There's only 200 geiko and 100 maiko in the city so the chances of running into one is very rare. You'll see a lot of these though:
We did a self guided walking tour and found this lovely shrine. There are thousands of shrines in Japan, ranging from a small thing on the side of a quiet street to a large park-like area. They are dedicated to the thousands of Shinto gods, which is the native religion in Japan that has been commingled with Buddhism. Shinto is a pretty relaxed religion that doesn't require a lot, and is largely a celebratory atmosphere around the days when everyone visits to get a good luck charm and pray their wish for the year ahead.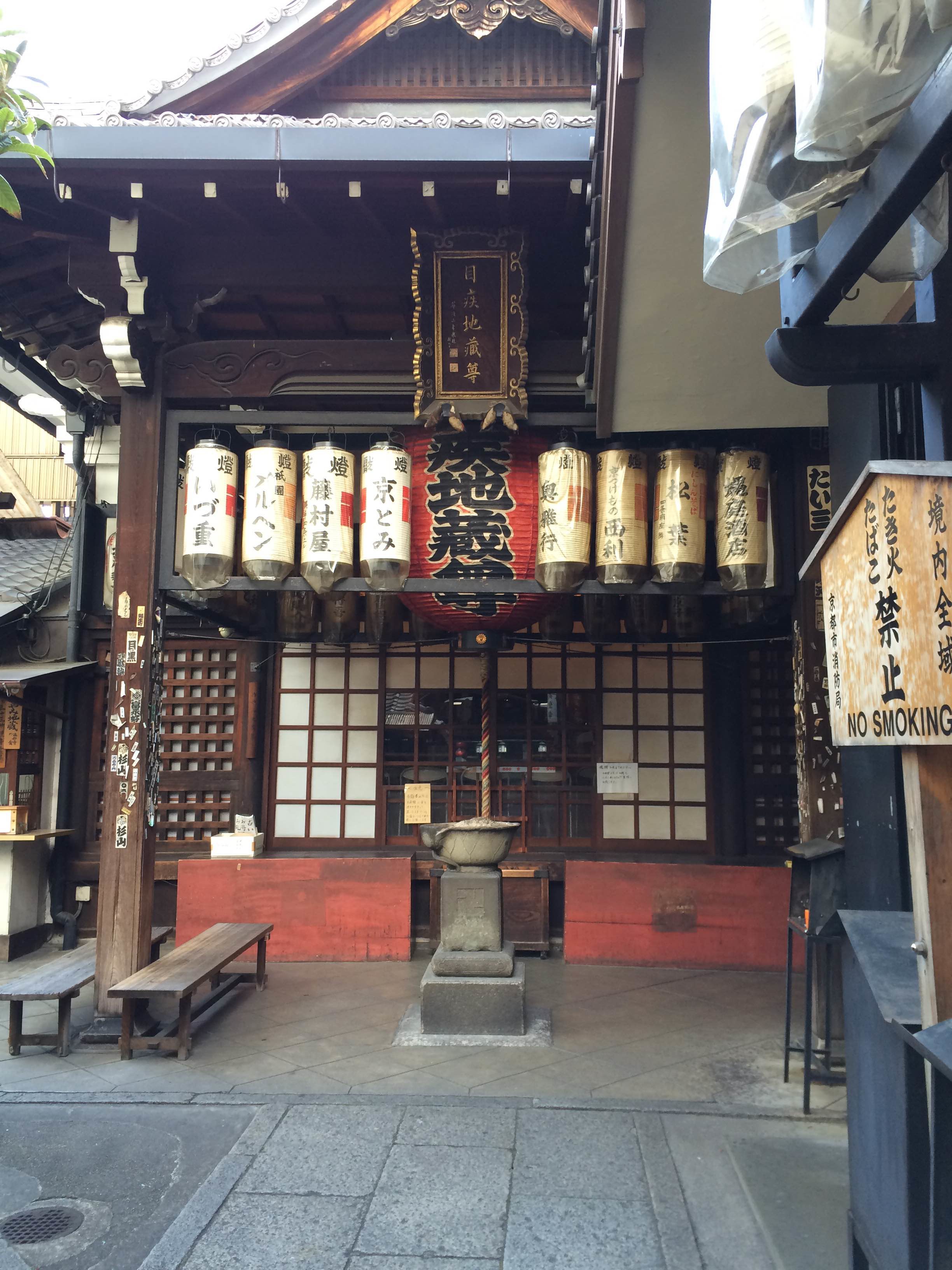 Something I'm going to miss about Japan is how neat, calm and well put together everything is. I think you can tell a lot from the things they appreciate in the ways they arrange food. Our food always looks like it's ready for a photo shoot. We joke about hipsters Instagramming pictures of their food but *everyone* in Japan does it, including the elderly ladies we dined next to.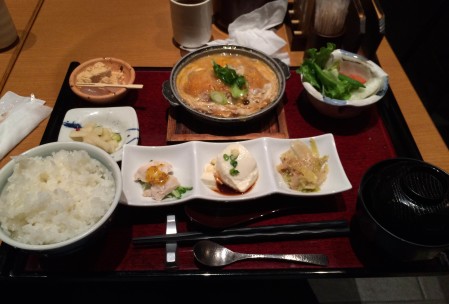 I wanted to stop really quick into a department store, because they're famous for their basements, oddly enough. The bottom floor of all the major fancy department stores are a food hall that are basically a "pick what you want to eat, we got it" kinda place. Creepy miniature octopus? Check. Expensive fruit for your host or boss? Check. Amazing bento boxes and beautifully done French pastries? Check.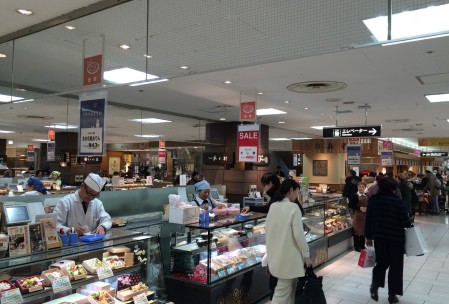 We came to Osaka yesterday, which is close by Kyoto. It's on the opposite side of the main island from Tokyo and while they're only a few hours train ride apart, Osaka and Tokyo are very different. Tokyo is reserved, everyone wears black like it's a uniform, and all speak a pretty standard Japanese. Whereas, Osaka is boisterous, laid-back, with much more colorful interesting outfits and a cool trill in their accent that almost reminds me of Spanish (the Kansai dialect). If Tokyo is New York, maybe Osaka is LA. Matt prefers Osaka ever since he was here last, and was trying to explain it to me since this was the first time I'd visited. His two reasons? 1) He saw his first rat in Japan when he was in Osaka (because everything is so clean and it made it feel like a real city) and 2) he went out to lots of late night parties here. Neither of these things interested me at ALL and the joke became that he wanted to go to Osaka because of the "party rats". Well, this is what we found in the shrine right outside our first subway stop in Osaka. He was so excited.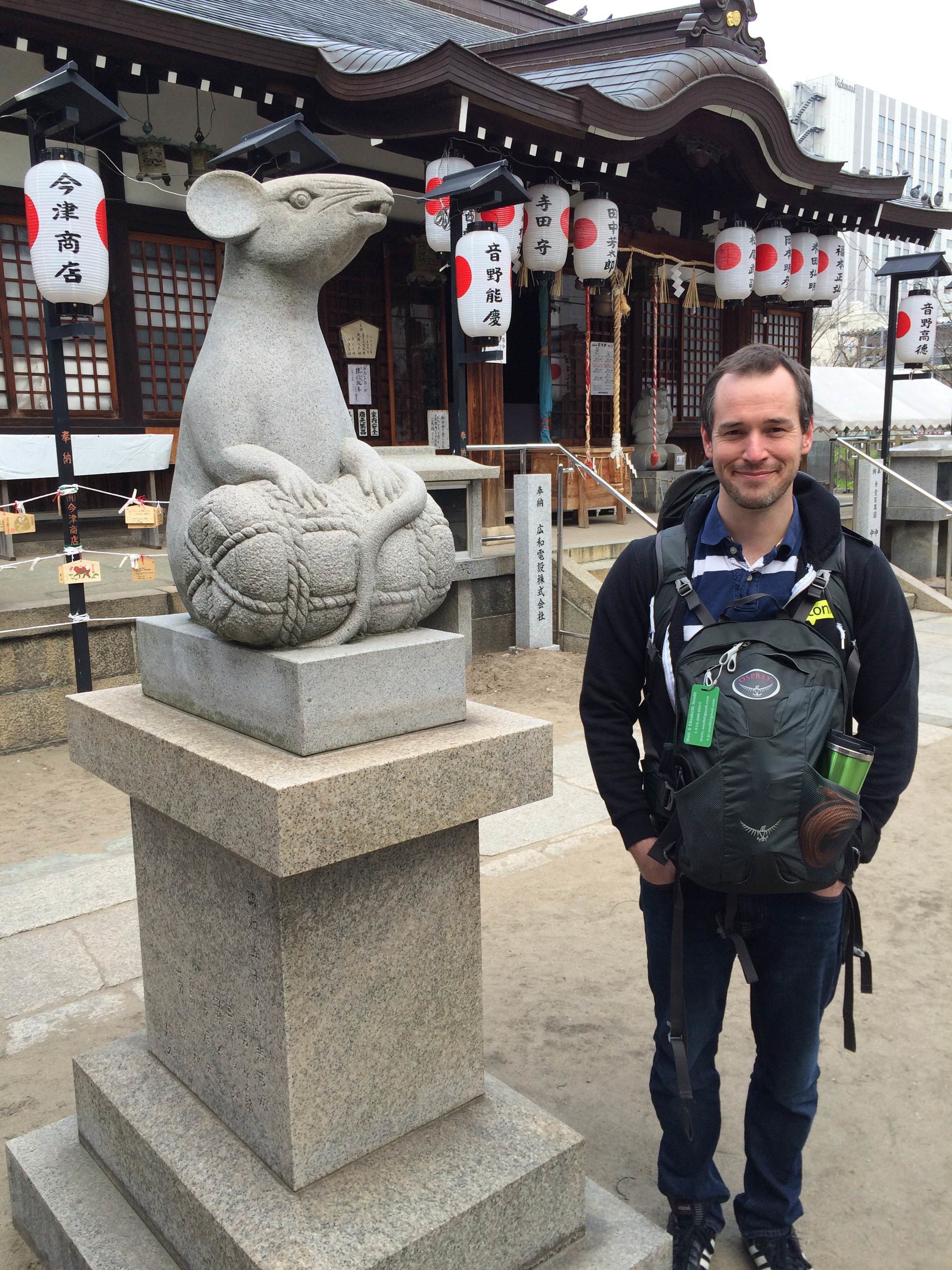 I can see why he likes it here though. They're a foodie city, and the food we've eaten so far has been great. They specialize in okonomiyaki (that pancake-omelet thing I was trying to describe last time) and takoyaki, which is octopus, tempura, and green onion that is battered in a ball, fried up and served with a savory sauce and some Japanese mayo. The people are fun and the clothes are inventive, and we visited this really odd neighborhood called Amerikamura "American Village" that is a weird funky side of Japan I'd not experienced before.
And, it's where we found Neko no Jikan "Cat Time", a kitty cafe! It's where you pay for an hour of petting cats and drinking tea or coffee. This is the first cat cafe in Japan and since then they have taken off worldwide, with other spin-offs like bunny cafes and even owl cafes. Matt and I were missing our kitty so it was really nice to meet these cuties. They had some really interesting breeds, all of them strays, including a Maine coon, a couple Scottish folds and something that resembled Grumpy Cat?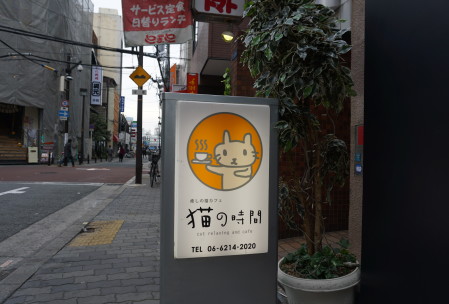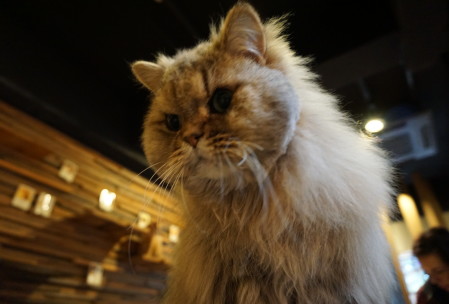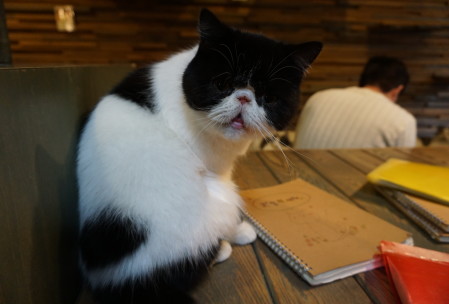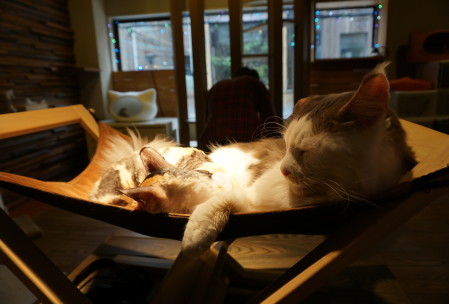 Tomorrow we leave Japan for Kuala Lumpur, Malaysia. I'm a little sad about leaving because we've had so much fun here, and I'm nervous that I'll be comparing Malaysia to it (along with the rest of SE Asia). But they're all very different cultures and I want to experience and enjoy the cool and unusual parts of each of them in their own way, so it'll be good to change it up a bit. Stashing our winter stuff because it's 93F on average there, and looking forward to the new sights and tastes of KL!
I'll leave you with a hilarious video from today.
Categories: Japan