London, post-Brexit
So we've been exploring London for the last week, taking the sights (Matt joins me when he's not working) and enjoying the joys of being back in the northern hemisphere in July. While there was little difference in the weather – Sydney is extremely mild in their winter, and London is extremely mild in their summer so we went from 65-70F during the day to, well, 65-70F during the day – we get to have long days again and delicious summer fruit that I'd been missing. The days are almost *too* long and have made getting over jet lag somewhat difficult. The sun starts coming up at 4:30 am here and isn't fully set until 10 pm. But it gives us lots of extra time to see things and will make our 5 am departure for the airport tomorrow morning a breeze. Also, nectarines. We had eaten our fill of apples and more, and I was ready for all of the yummy produce that summer brings. I've been to London a couple times before, while Matt has never visited, so it was fun to take him around the city. I found though that I think I prefer Sydney. That said, it still has a lot to offer and we got a really good taste of everything in our short week here. Here are some highlights:
Museums – all of the major ones are free and just ask for a donation. If you like learning stuff you can really geek out here.
Food – everything. They have literally everything. If you love Indian food, you'll find really authentic and cheap Indian food here.
This is random, but after reading through several lists of free things to do in London, we came across Angel Comedy club. We lined up an hour before it started and got to attend a free and very funny comedy show. They take donations and have up and coming acts. Definitely a fun way to spend an evening.
Hyde Park – liked it so much we went three times this week. Today the sun came out after a few showers this morning (the only rain we had all week) and it was sublime. We rented bikes and rode around the park past dance groups practicing their routine, sunbathers on the lake, and roller skaters doing some sweet moves.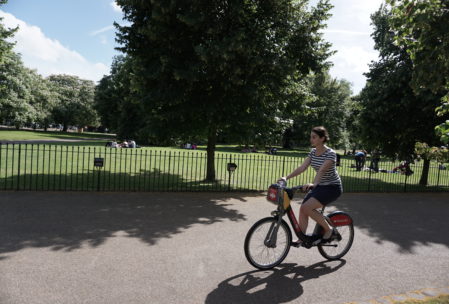 Afternoon tea – it's probably more touristy now than anything, because I doubt any British person has high tea every day, but it's a fun activity and makes you feel super fancy. You basically drink your fill of delicious tea and eat different kinds of finger sandwiches, scones with several kinds of jam and clotted cream (think a cousin of whipped cream and butter) and little pastries and fruit tarts.
The history – London as a city has existed since the Roman empire settled it almost 2000 years ago. The London City museum does a good job of taking you through what's happened since. Most interesting times are the Black Death around 1350 and the Great Fire that took out most of the city in 1666. Fun fact: St Paul's Cathedral got so hot in the 3000F temperatures that the stones exploded and the lead roof melted off. Needless to say they had to rebuild it.
We also did a great self-guided and free walking tour recommended by our friend. It's through Rick Steves' website, but you can either download the audio or subscribe to a podcast and play it as you walk. They give you plenty of time to walk around but you can pause it as you go. There are several but we did the Westminster walk that took us by Westminster Abbey, Big Ben, the Houses of Parliament, Churchills War Rooms and up to Trafalgar Square. It was very interesting in terms of a history lesson and well worth doing if you ever visit.
Despite it being in the middle of tourist season, this is an excellent time to visit England. The pound is still struggling after the referendum for Brexit passed a couple weeks ago, and the exchange rate is currently $1.29 to 1 GBP. To lend perspective, the last time I was here, it was $2 to 1 GBP. Things are so, so cheap right now that it's at a 30 year low. That isn't so great for them but fantastic for Americans who avoid London because it's an expensive city. Things are still pretty normal on the streets despite how much Brexit has turned their country upside down. I will say that we've had a lot fewer people comment on how our presidential race is going here than we have in other countries, likely because they're not much better off at the moment. If you can handle some profanity, this is a good breakdown of where things are at politically. We haven't seen firsthand any of the outright racism I've read about that has been fallout from the decision but have read about the huge upticks in hate crimes in the local newspapers here.
Tomorrow we fly to Geneva and take a bus up to Bursins, which is on Lake Leman in the French-speaking area of Switzerland. We will be there for one month housesitting a shy terrier named Ted. We're really excited about this next leg of our adventure and can't wait to post pictures!
Categories: England