Oxford: The City of Dreaming Spires
Hello! We've officially been (back) in England for 1 week. We spent last weekend in Oxford, one of my favorite cities in the world, before heading down to Brighton for our next housesit. I'll talk about Brighton next time, but I wanted to share some pictures here of Oxford. For those who haven't been, it really is worth a visit.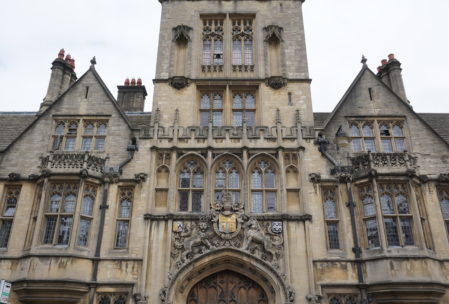 Oxford is called the City of Dreaming Spires and with these pictures you'll understand why. I was lucky enough to have visited it twice before, due to several friends of mine studying abroad there during my sophomore and junior years of college. Our school had a great exchange program with them and I envy their chance to have stayed there, in some cases for a full school year!
Our visit was short, but knowing that ahead of time I planned it to be as exciting as possible. It's taken me 8 months but I think I've got my husband's energy levels and travel pace figured out, so we had breaks planned every couple of hours to sit down and have a coffee or snack. That kept us going til late and kept us both in good moods.
We started on Saturday with a Full English – short for Full English Breakfast, which consists of sausage, bacon, beans, potato cakes, broiled tomato, mushrooms, an egg, toast and coffee. …it's a lot of food.
We toured around the (free and excellent) Ashmolean Museum, which has been operating since 1683. It displays some great archaeological, zoological and anthropological findings from various civilizations going back several millennia.
We then grabbed a quick lunch from Tesco and joined up with a free walking tour. Footprints Tour company has a great one and it was so educational! The idea is that you tip at the end what you think the experience was worth. I'll share our favorite anecdotes here from our hilarious guide, who graduated a couple years ago from the University.
No one knows exactly how old the University of Oxford is. Many souvenir shirts state 1231, but it's an arbitrary date. All of the colleges (of which there are 38) are distinct and have their own campuses spread throughout the town. Each college has their own formation date over the last 800 or so years, their own admissions process, and you can study most major subjects at each. Nearly all of them began as monasteries and expanded from there.
The student experiences begins and ends at this building, where the initiation and graduation ceremonies take place. During the initiation, first years must listen to the chancellor speak in Latin for 1 hour, while she recites the rules of conduct. At the end they must respond in Latin, "I agree". The graduation ceremony is 3 hours long…in Latin!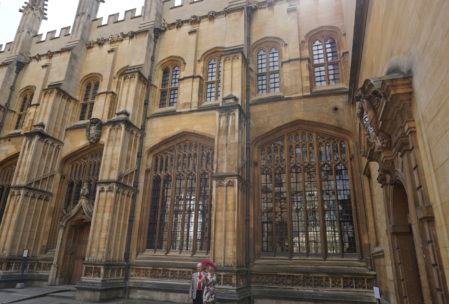 Nearby is the Bridge of Sighs, which is modeled off the same named bridge in Venice. Cambridge, Oxford's rival, put up one of these over their river that runs through the center of town, so Oxford had to have one made just slightly larger. Near this spot is where Bill Clinton "smoked but didn't inhale".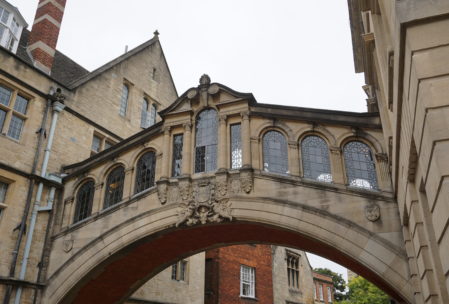 Did you know David Cameron, the British Prime Minister who just stepped down, joined a secret drinking society here called the Bullingdon Club? It was only for very posh boys. You knew if you were initiated by coming home to your dorm room completely destroyed, with everything smashed to bits. They would go out drinking, smash up the entire bar, and leave a check for about $25,000 covering the damage and the bill. Oh, and that's where he met the…interesting Boris Johnson.
The Bodleian Library has one copy of every book ever published in England since the early 1600s, including many foreign works as well.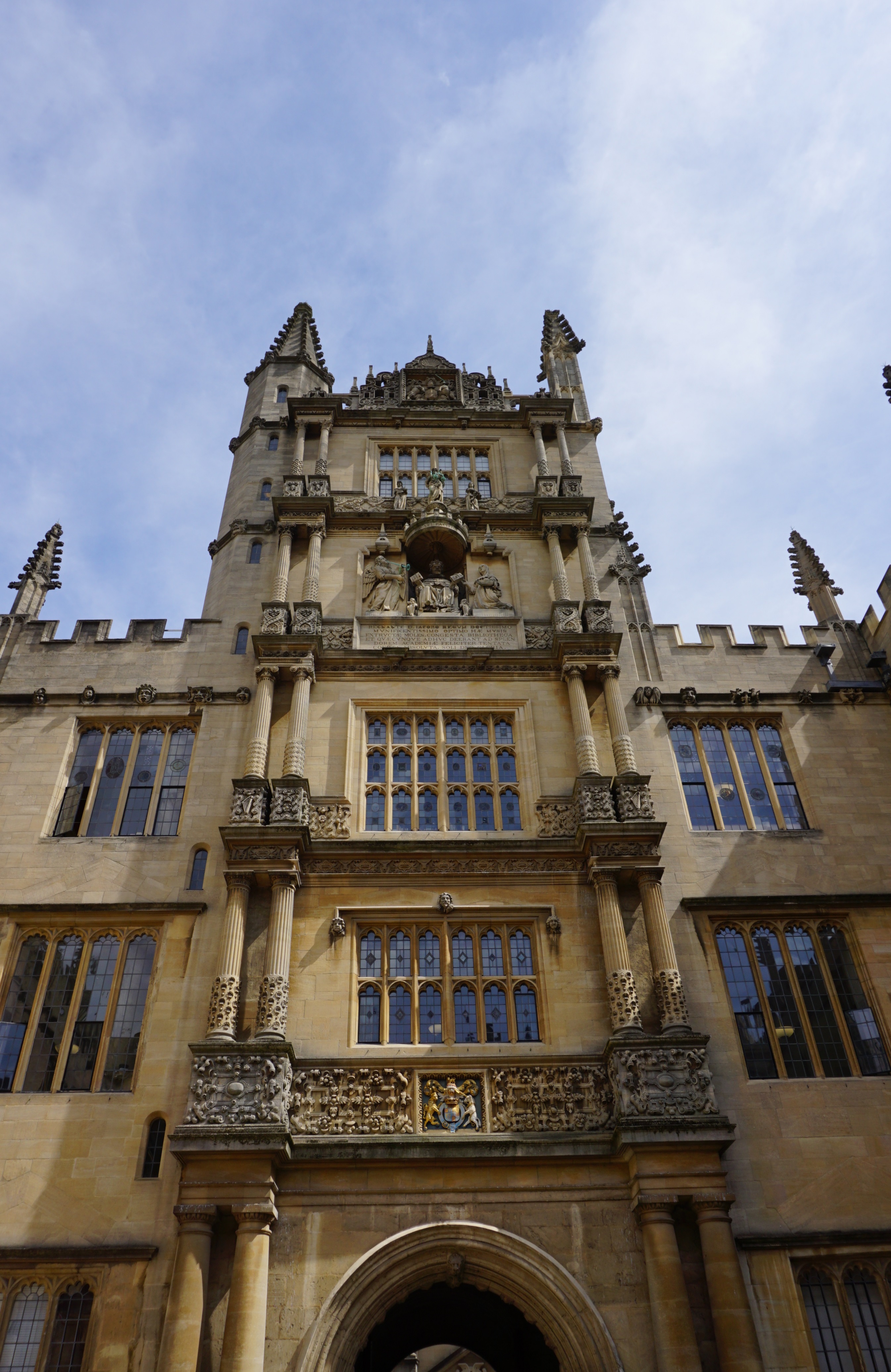 Radcliffe Camera is one of the most iconic spots in Oxford. It's another library near the Bodleian, and has several stories of passages underneath, some of which stretch to other parts of the town nearby. Most of the colleges, being as old as they are, have secret passages.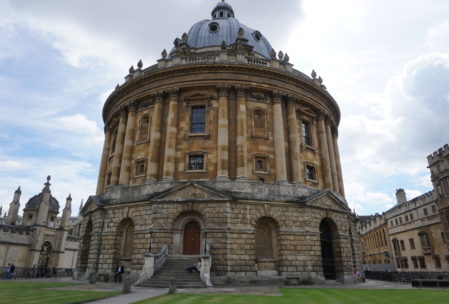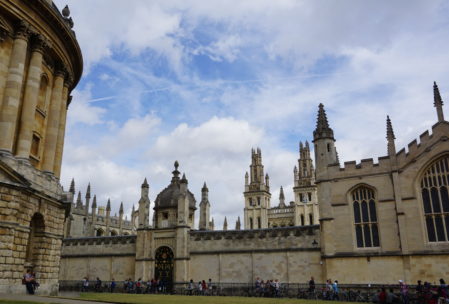 There's a passage between the Oxford University Church and a nearby building that CS Lewis would have walked every Sunday after service. It's said that after years of walking this, he started to flesh out ideas for a series called The Chronicles of Narnia.
Christchurch College is the largest and grandest campus in Oxford, home to Lewis Carroll, an eccentric professor of math whose first work Alice's Adventures in Wonderland so captured the imagination of Queen Victoria that she asked him to send her the first copy of his next work as soon as he published it. He sent her a mathematics article. But we were taken with a far more eccentric professor, William Buckland. He helped establish the field of paleontology and claimed he had eaten one of every species living, and in fact could identify what animal something was merely by putting it in his mouth. Quite a party trick. Some French had come to town and he had a chance to dine with them. They told him that they had a box with something very special inside, and asked if he could guess what it was. He took the box, opened it up, and to their shock, popped the contents in his mouth and ate it. It was, purportedly, a piece of the heart of King Louis XIV. Gross.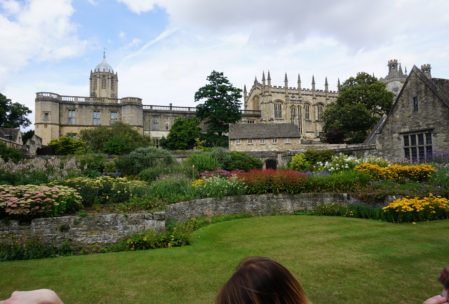 Many of the colleges are open in the afternoons for visits, and some of them have free entrance, including Keble College. It's a beautiful campus, but what made it so special was a specific Raphaelite-era painting in the chapel.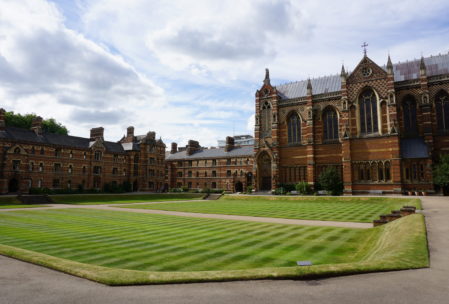 It's a beautiful work called 'The Light of the World'. There's a neat write up that they included with it that I'll link to here, because I found it really fascinating.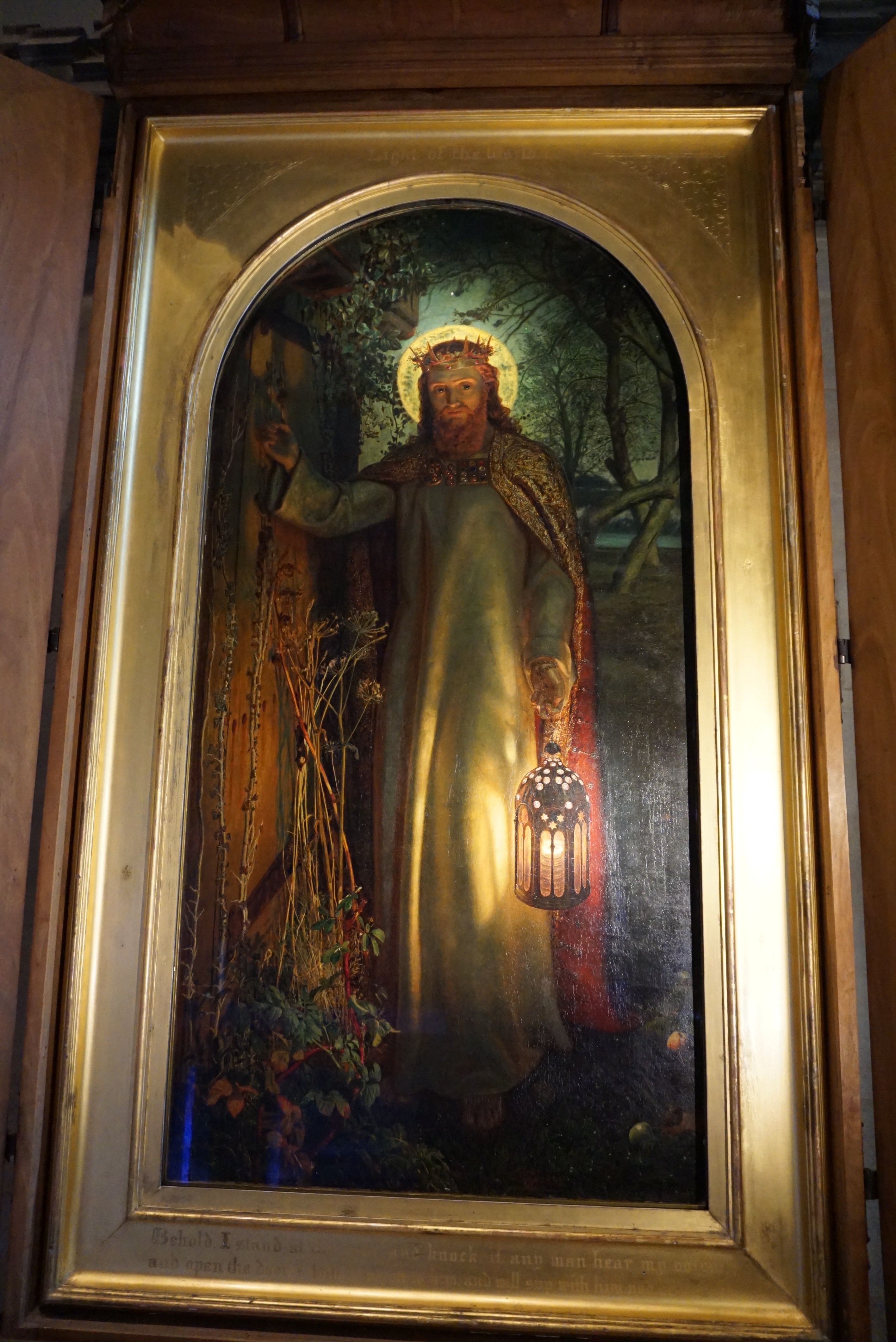 And that's it! It was a short weekend but really wonderful to be back there. Now that I've met Matt, I'll have to give up on my college-aged dream of expatriating to Oxford after retirement, buying a cottage, and owning multiple cats. Likely. We'll see, maybe I can work on him, now that he's been there 😀
Categories: England