Scotland
Guys, I'm sorry – due to procrastination and stuff getting really busy near the end of our stay, I won't be writing the Auschwitz post. I need to catch everyone up on what we've been doing for the last 4 weeks in Scotland.
We arrived in Glasgow a month ago and stayed the night, exploring the city a bit and going to a really nice service at the nearby Church of Scotland. After some amazing Indian food for lunch (I'm going to miss all the delicious curry in the UK) we took the train up to Balloch, near the Highland/Lowland border and entrypoint to the Trossachs National Park. It's on the southern tip of Loch Lomond, which is a 26 mile-long lake surrounded by low-lying mountains.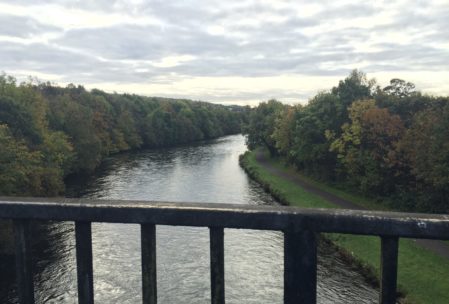 Balloch is a small town but fairly tourist-y given its position, so not too sleepy. We've been housesitting for a ridiculously easy dog. Bailey is a Lhasa Apso-Maltese mix and is a timid lapdog who loves sleeping.
Our time has been spent walking around the Balloch Castle park along the lake, doing a bit of tourism ourselves and having lots of meals with locals! We joined a small (by which I mean, about 15 – 20 people) congregation in nearby Alexandria. Most of the people there are in their 70s and 80s, and incredibly friendly and lively. I joined a bi-weekly crafting group where I worked on my crochet.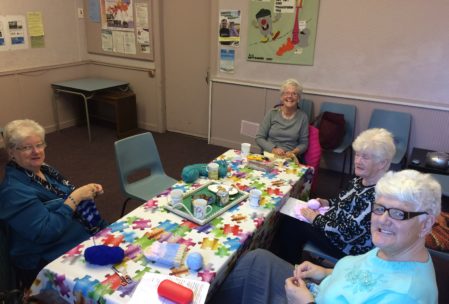 One of the congregants, Matt, took us out to lunch twice. He worked as a medical missionary in India for 15 years with his wife. While he's 87, and grieving the loss of his wife just in March, he has a joyful heart, and I watched him run across a parking lot in the rain. He's in amazing shape! I shared dinner in the home of another couple, Ann and Bill, and they shared their lives with me. We've eaten dinner with our host Carol's mother-in-law, May. She used to run a hotel nearby and bus company and had hilarious stories about what went on. Best one: a WWII German prisoner of war who liked the UK so much during his capture that he stayed here after the war ended. He was an eccentric who would call out for May to stop the bus when he saw game in a passing field. When she did, he would open the window in the back, pull out his shotgun and shoot it. He used to leave a dead rabbit or other creature on her step once a week, presumably as thanks and "hush money" since technically this was not allowed (what strange bus rule that would fall under I'm not certain). Horrified by this practice, every week she would throw it in the trash. Her family owned and operated a hotel later, where she worked up to 18 hours a day, 7 days a week, until she was 76, by which point she'd had enough of naked guests knocking on her door, kids breaking in on their one vacation day a year to drink all the booze in the bar, and people passing away naturally in their beds. They sold the hotel and she's been happily retired ever since.
On one of our weekends here, we visited a lowlands Scotch distillery, Auchentoshan. Lowlands is much smoother and nicer than other types in my opinion, the most polar opposite being Islay (where the water has been filtered through peat bogs, and the mash is cooled down by fans and burning heaps of peat – gross). The area around the storage warehouse has the familiar heavenly scent of "angel's share", the slow and constant evaporation of the whiskey from the barrels it's stored in.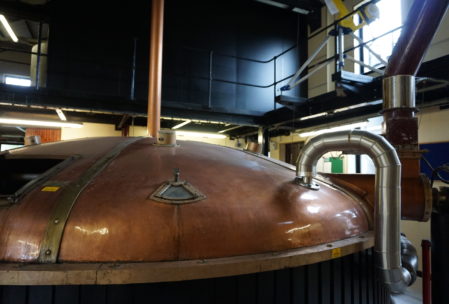 Also interesting is the black fungus on the trees, buildings and fences within a 50 – 100 ft radius of the building. The amount of evaporating alcohol in the air produces a fungus on every surface nearby, so identifiable that the tax collectors used to use it as an indicator of a nearby illegal operation. Which is why there are so few distilleries this far south – everyone moved further north into the rougher, wilder parts of Scotland so as to escape paying taxes (about 70%, which is on par with the US).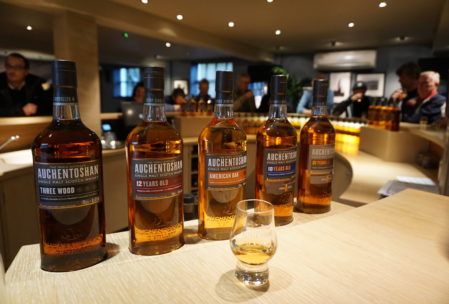 We also had a nice date in central Glasgow recently where we had the best afternoon tea at The Butterfly and the Pig, spent an interesting couple hours at the Gallery of Modern Art, and took in the latest Werner Herzog documentary entitled 'Lo and Behold: Reveries of the Connected World' at a nearby arthouse, about the past, present and future of the Internet and how it affects human interaction. It kept us talking and debating the entire train ride home and is worth a watch.
So that's it! Next is Amsterdam, Netherlands for two weeks! This was our last time in the UK, after dipping in and out of here about three times this year. I'm going to miss a lot of things: the friendly people, the beauty around us, and cheap delicious crumpets. Goodbye crumpets 🙁
Categories: Scotland