Skiing and the first day in Kyoto
We finished up our last day in Nagano prefecture by going skiing in the Shiga Kogen area. It's very close to where the 1998 Winter Olympics were held, was lightly snowing all day but still very visible, and the best part? There were NO people. Apparently last weekend was a big holiday weekend so everyone spent their money getting out and skiing then. We no more than 2 – 3 people on the same run as us most of the time, and there were some runs where we were alone. I'm not very good, so that was great for me as it allowed me to be as cautious and unpredictable as possible. I only fell 4 times though, which was pretty great compared to my first time! It got bitterly cold in the afternoon. All of Japan is colder than usual, due to a cold front that moved down from Siberia (US gets Arctic blasts, Japan gets Russian blasts). We took shelter to warm up for a bit in the afternoon at an empty ski in/ski out restaurant. We both ordered royal milk tea, which is hard to find outside Japan and is amazing. Normally you'd expect them to use a mix but the owner stood in front of us with a pot on a single burner and slowly whisked in Ceylon tea into milk until it was steeped enough. She was quiet and reserved at first but Matt got her cracking up at his dorky antics, including his makeshift balaclavas where he insisted we put our hoodies on backwards and use the hoods tucked into our goggles. It looked dumb but it worked and saved our noses from some major windburn.
The scenery was breathtaking and while the mountains aren't as tall as in Colorado (the average one in that area was probably 8,000 feet) they were still gorgeous. The powder was the perfect texture and very deep. If you go to Japan in the future, you should go skiing in this area or in Hokkaido (the northernmost island).
We took a couple trains to go south and west to Kyoto, following the same mountain range we'd skiied in on our left and the Sea of Japan on our right. We got into Kyoto with enough time to check into our hostel, scout out a grocery store for breakfast supplies, and chat with one of our hostel dorm mates named John who is from Canada. Matt has a Japanese friend named Taka who studied at KU with him for a semester. Taka wanted to meet up with us for dinner, and we found out that the random hostel that we picked due to its good reviews is only 60 meters from Taka's house, in a town of 1.4 million. What are the odds? We went out with Taka and John for okonomiyaki for dinner, which is a dish that literally means "eat what you like, how you like it". It's a Japanese omelet, kind of, with an egg and flour based batter, and either meat/seafood or cheese/rice cake in it, and cabbage or noodles and fish flakes and…yeah that's why it's named that. 🙂 It might sound odd but it's really delicious and extremely savory. If you're willing to try it, there's an Osaka style okonomiyaki place that tasted pretty similar to this in Westport back in KC called Sama Zama. At this place they bring it out so you can finish it on a grill on your table.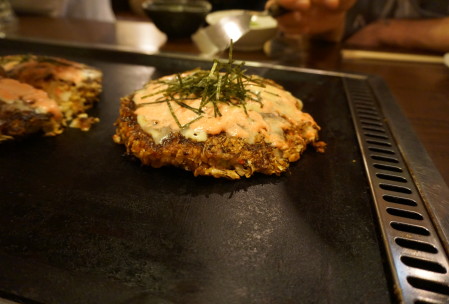 Today was still really cold so we just made it to this shrine where they have thousands of red torii (sacred gates) lined up. It's a shrine to the Shinto goddess Inari and gets a lot of tourists. It was hard to get these photos without dozens of people in them.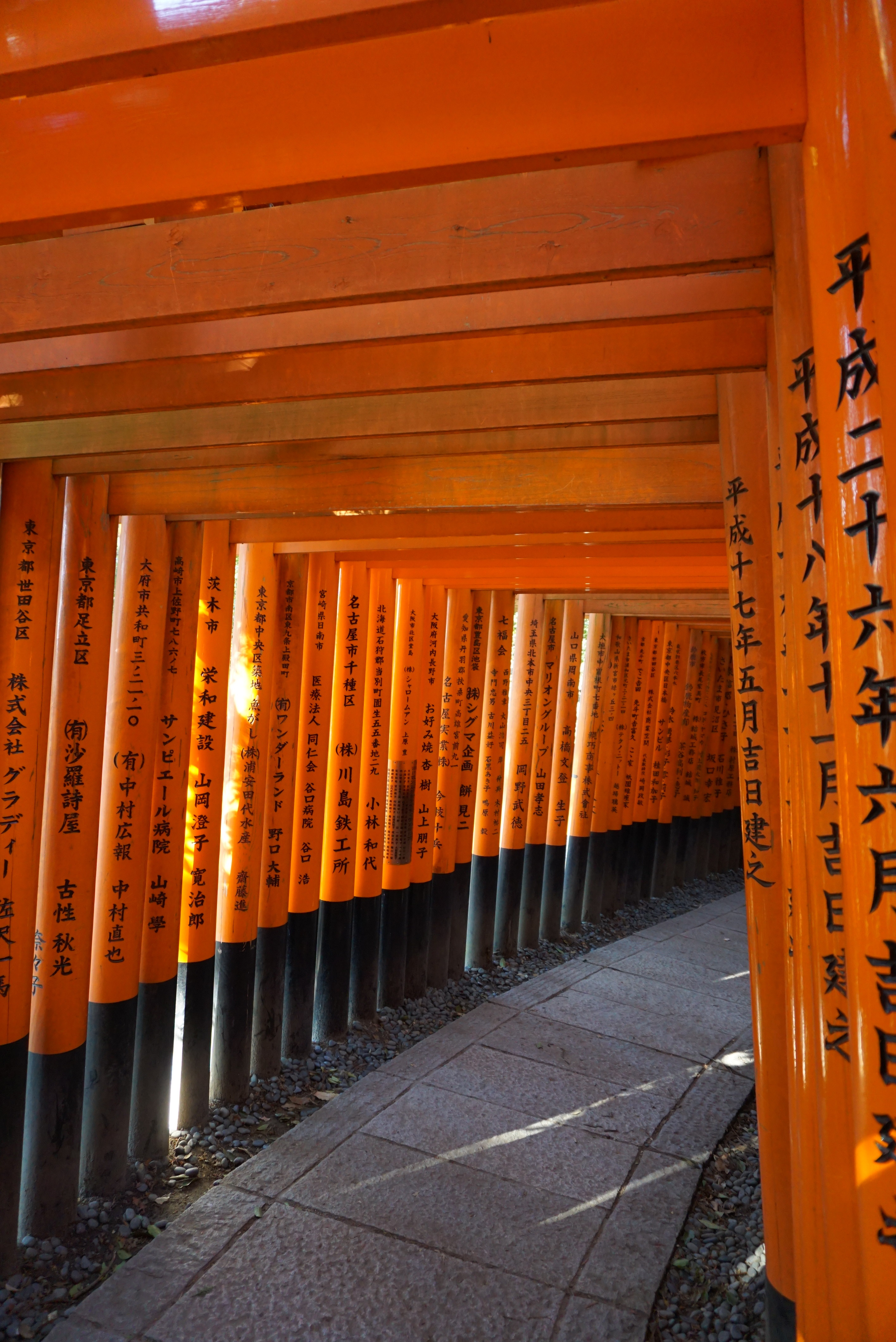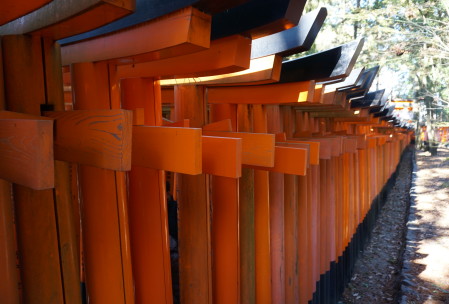 I'm not feeling 100% so we stopped to get some legendary ramen (you know a place is good in Japan if there's a line, and because everyone's Japanese it moves quickly) and then I took a nap. We'll see how much sight seeing we can do here.
Categories: Japan