Snowy Nagano prefecture
Guys, we love Japan. I enjoyed my time here last time back in 2010, but I was alone and it was hard to enjoy it by yourself. There's so much to take in that it's better to have someone to process everything cool (and weird) with. Yesterday I met up with Atsuko to find a few technology items that we needed (chargers, cables etc) and she took me to a really cool store in Roppongi area. It's a store that is from her hometown of Fukuoka, and has a long history of making great dashi, miso paste, soy sauce and other awesome cooking ingredients. Dashi is a process of adding several things including kombu seaweed and fish flakes to water and making a savory broth that is the base for various soups and dishes. You can also add the powdered base to amplify the flavor of your dish. It doesn't have to be fish-based – they sell vegetable based ones that have a lot of umami flavor. They let us sample theirs and both the fish and vegetable based ones were delicious. Atsuko was exceedingly generous and wanted to gift me with some of both. I'm really excited, since this will be a great substitute for chicken stock in cooking, and dashi was something I was missing in a lot of my Asian recipes I tried out this past year. This store had a restaurant attached that had the best soups made with their ingredients. I had one with dashi, pork, miso, Japanese sweet potato and shallots with a little multigrain onigiri. The food flavors here in Japan are often simple but always well-thought out, as is the presentation. We had a great time wandering around, looking at packages of 9 strawberries for $50 (yeah..) and other over the top souvenirs and gifts that you might give a host.
It was hard to say goodbye to her, because we have found that we have much more in common than we realized from 13 years ago. I hope they can come to KC so we can feed them some BBQ.
Today we packed up our things in our Tokyo flat and made our way to the station to board a shinkansen, a bullet train, to Nagano Prefecture. Before boarding we picked up an ekiben, which is a bento box you can find at a train station made to take with you. It comes with various meats, pickled vegetables and rice in a cute little box and is very Japanese.
It was crazy to go from sunny, 50F Tokyo to cold snowy Nagano in just a short trip. We're up in the mountains here and it reminds me of Colorado.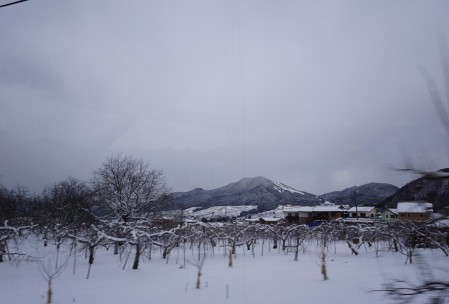 We are staying in a ryokan which is a traditional Japanese inn. Our room has tatami mats on the floor, sliding doors, and futons (not the couches we think of but thick mattresses that fold up and a rice filled pillow). It's charming and adorable and is in a district that has had ryokans and onsen (hot springs) for 900 years.
We got there early so while we were waiting in the lobby, they set us up at a kotatsu, which is a table that you sit cross legged at. There are blankets that are attached to all sides that you place over your legs and guys, there's a HEATER underneath the table. It's so, so comfortable, I didn't want to leave.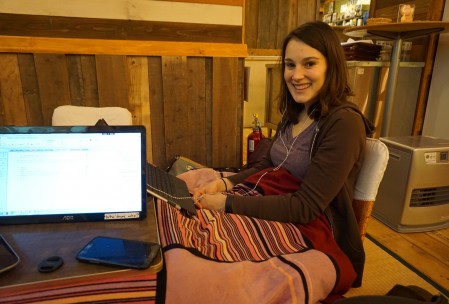 It's so nice that in researching various ryokans to stay at, one had a picture of what you might find under their kotatsu if you lifted up the blankets..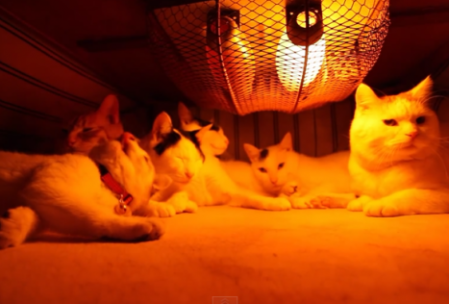 No cats here. But our host did warn us when he was showing us our room that if we opened the windows (uh, dude? it's 32 F here) we should make sure we close them before leaving the room because monkeys have been known to enter in, tear through your stuff and make off with any food, watches or jewelry they find. Monkeys.
Because this is the home of the snow monkeys! They love the onsen and while they don't come around as much around people – you have to typically go to a special park to see them – they aren't unheard of.
We are here til Saturday. While this is a really popular destination for skiing, I think we'll just hang out and explore a little. Matt still works during the week so it will be a good chance to take pictures, reflect, soak in the onsen and read. It's weird as I'm planning the next leg of our trip to Malaysia to see that the average temperature in Kuala Lumpur is 92F. We're really going to get the full range of weather this year…thank goodness for layers.
Categories: Japan