South Island stop #3: Abel Tasman
We ended our tour of the South Island of New Zealand with a drive up the west coast to Takaka, near Abel Tasman National Park. The western coast is entirely different than the rest of the island, as all of the rain gets dumped there before it crosses the Southern Alps. The climate is more wet and warm; the area has a lot more palm trees and fewer conifer trees. We had hoped to see Franz Josef, a famous glacier that is quickly receding, but the day was so rainy and miserable that we had to stay indoors on our brief stop there.
As we traveled up the coast we took twisting turns that followed the blue waters of the Pacific Ocean, into mountainous passes and forest and farmland that turned into a beautiful hilly coastal area in the northernmost part of the South Island.
We stayed in a small hippie town called Takaka, in Golden Bay. You drive past these beautiful empty beaches on lonely two lane roads (with occasional one lane bridges) – you might pass some sheep as you wind your way up a mountain pass to get there, or drive over unsealed roads. Driving was quite an experience for us, as we heard that a place might be about 200 km (125 miles) away, only to have it take several hours to reach. It's driving that wears you out, since you're often going 30 mph, braking quite a bit as you travel down these crazy hills with narrow bends around giant cliffs and green valleys. But we made it eventually, and stayed in a beautiful cottage that I found on AirBnB which overlooked the ocean and an estuary in Golden Bay.
We slept with the shades pulled up, because you didn't want to miss waking up to the stunning sunrise every morning that burst up over the water.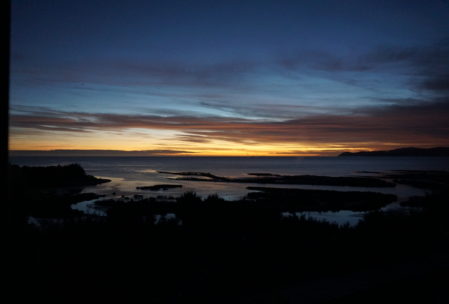 The birds and plants we encountered here were so very different than the ones on the east coast (Christchurch) or the central/south mountainous areas (Twizel and Queenstown) that it felt like we were somewhere else entirely. The bush was so dense at times on our hikes that you felt like you were in a jungle.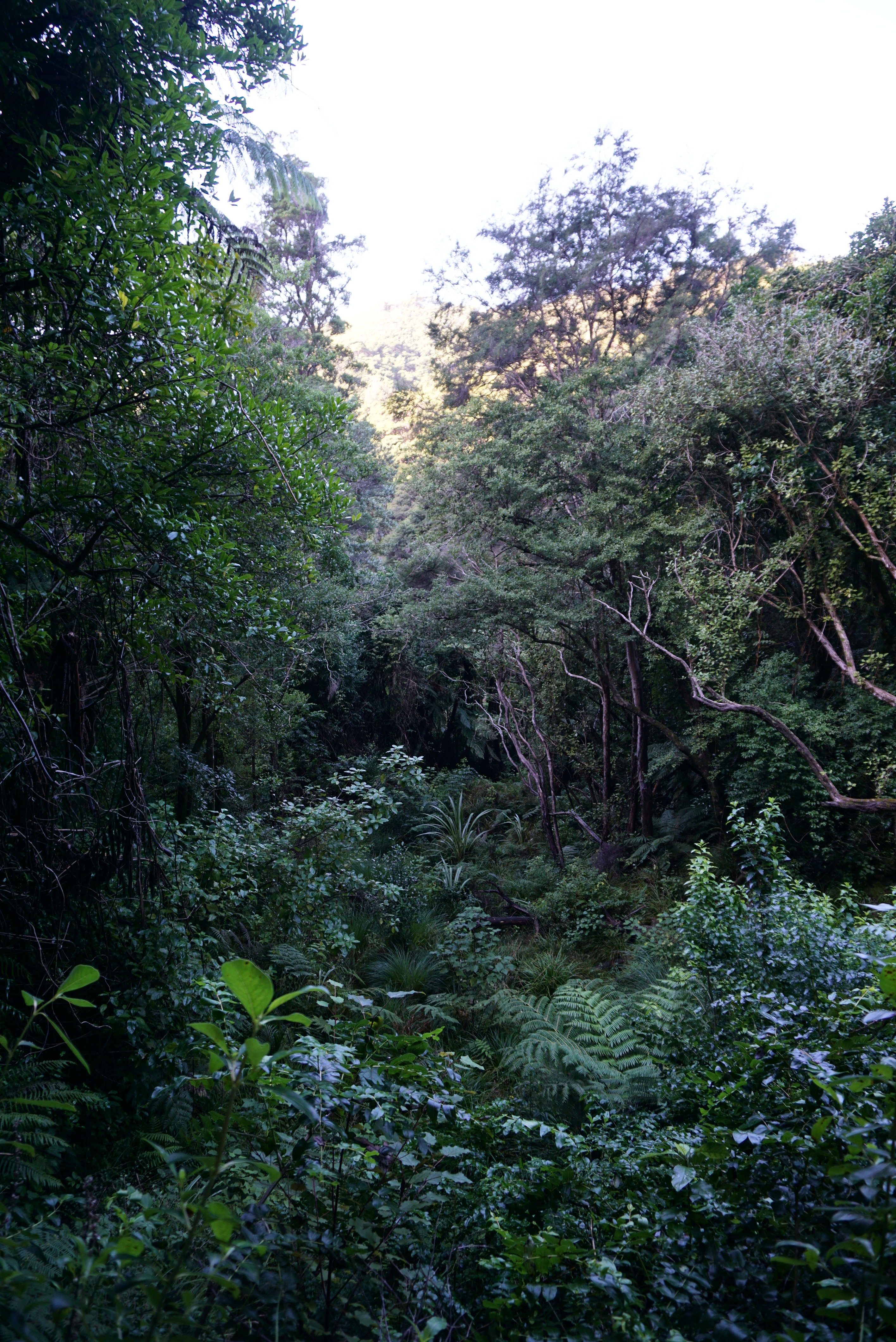 We hiked to ice-cold springs that had some of the purest water in the world, and through dense forest out to a beach where Matt swears he saw a penguin. To be fair, it's not that uncommon to see penguin crossing signs as you drive up the west coast. There are several penguin species here that like to stop over on the South Island on their way back down to Antarctica or to a lonely cold island in the deep South Pacific. It was an incredibly peaceful end to our road trip and definitely a place I would recommend visiting if you ever come here.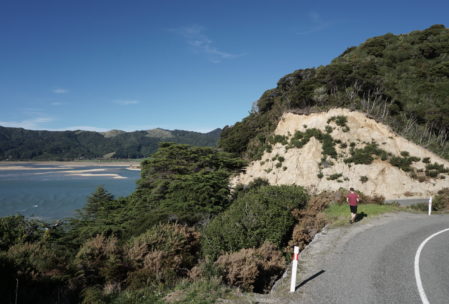 Upon leaving Takaka we drove over to Picton, our last stop on the South Island before we left for our farm housesit on the North. We stayed overnight, exploring the harbor and a local hike there to get a better view of the very pretty landscape. In the harbor, we saw a seal briefly surface its head as it drew air before sinking back beneath where the yachts were moored. I was too slow with my camera but he was really cute.
On Monday we woke up very early, drove our little car onto a ferry and took the 3 hour ride up to Wellington, the capital of the country and southernmost city in the North Island. It's home to Peter Jackson, the Weta film studio that produced Lord of the Rings, and a really good museum that has a great exhibit on WWI currently (Peter Jackson put it together) that unfortunately we didn't have time to visit. We had a quick lunch in town and drove up and over to Hawke's Bay, our home for the next 6 weeks. It's on the eastern coast of the North Island, and has a mild Mediterranean type climate all year round. I'll save stories of that for next time, but I promise next time I write I will post pictures and videos of the 150 (!) alpacas they have here on the farm that we are taking care of, along with the many dogs, cats, and chickens. It's an adventure and a half out here.
Categories: New Zealand