There's no crying in Thai massage
We're wrapping up our time in KL and will be leaving on Sunday morning. It's been a quieter week since we've run out of most of the things we wanted to pay to see, and it's also nice to take it slow. I took Matt to a Thai massage studio that focused on foot reflexology, and we both got a foot massage for an embarrassingly cheap price. I think in the US, most massages are meant to just be comfortable and relaxing. Not here. This Vietnamese guy beat the crap out of our legs and feet. There were times it felt really nice, but other times where you're gripping the side of the chair and thinking "man this hurts, but if I say anything I'll sound like a weak American". Afterwards though, you feel great, so great that I went twice this week. If I lived here, I would go regularly. It'd be cheaper than a latte habit (or Andy's frozen custard, *cough*), and probably much better for you. Fun fact…the first time I went, I opted to get a 30 minute Thai back and shoulder massage as well. I was twisted around, contorted, folded, and at one point lifted off the ground doing a backwards handstand, while he slowly popped every vertebrae I had. The grip he had on my neck to massage it nearly brought tears to my eyes. It's just a different experience than anything I'd had before, and probably not one I want to undergo again without mental preparation ahead of time. But it was in the air conditioning, and during the hottest part of the day, you can either have cheap fun here by going to the mall or getting contorted in ways that you weren't ready for. The things we do to stay cool.
This week our AirBnB hosts invited us to the Kanching waterfalls, which are north of KL. They drove us up there, paid our entrance and we spent a couple hours climbing up the five levels of the falls, enjoying the spray and the refreshing temperatures and surprising lack of mosquitoes.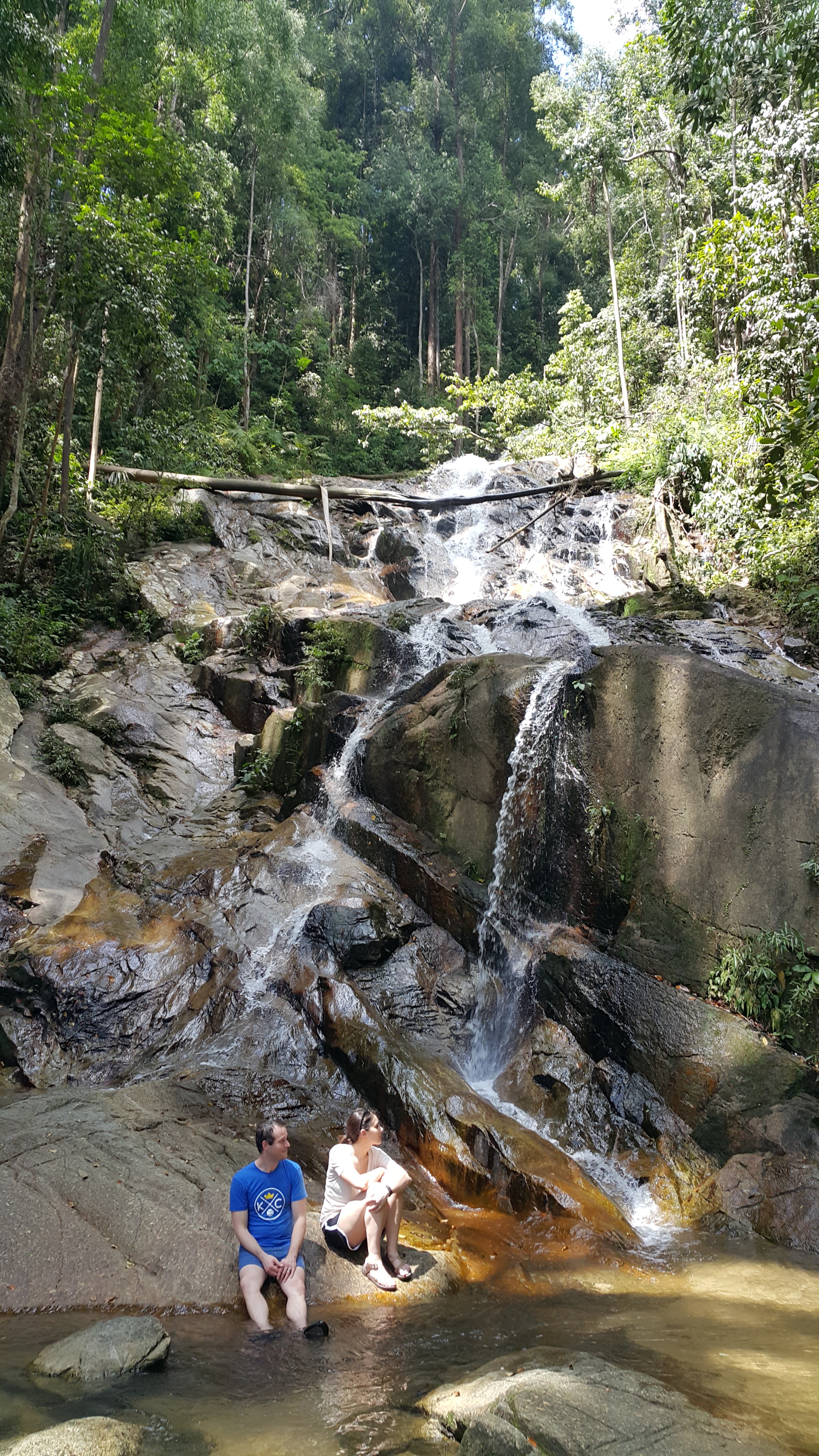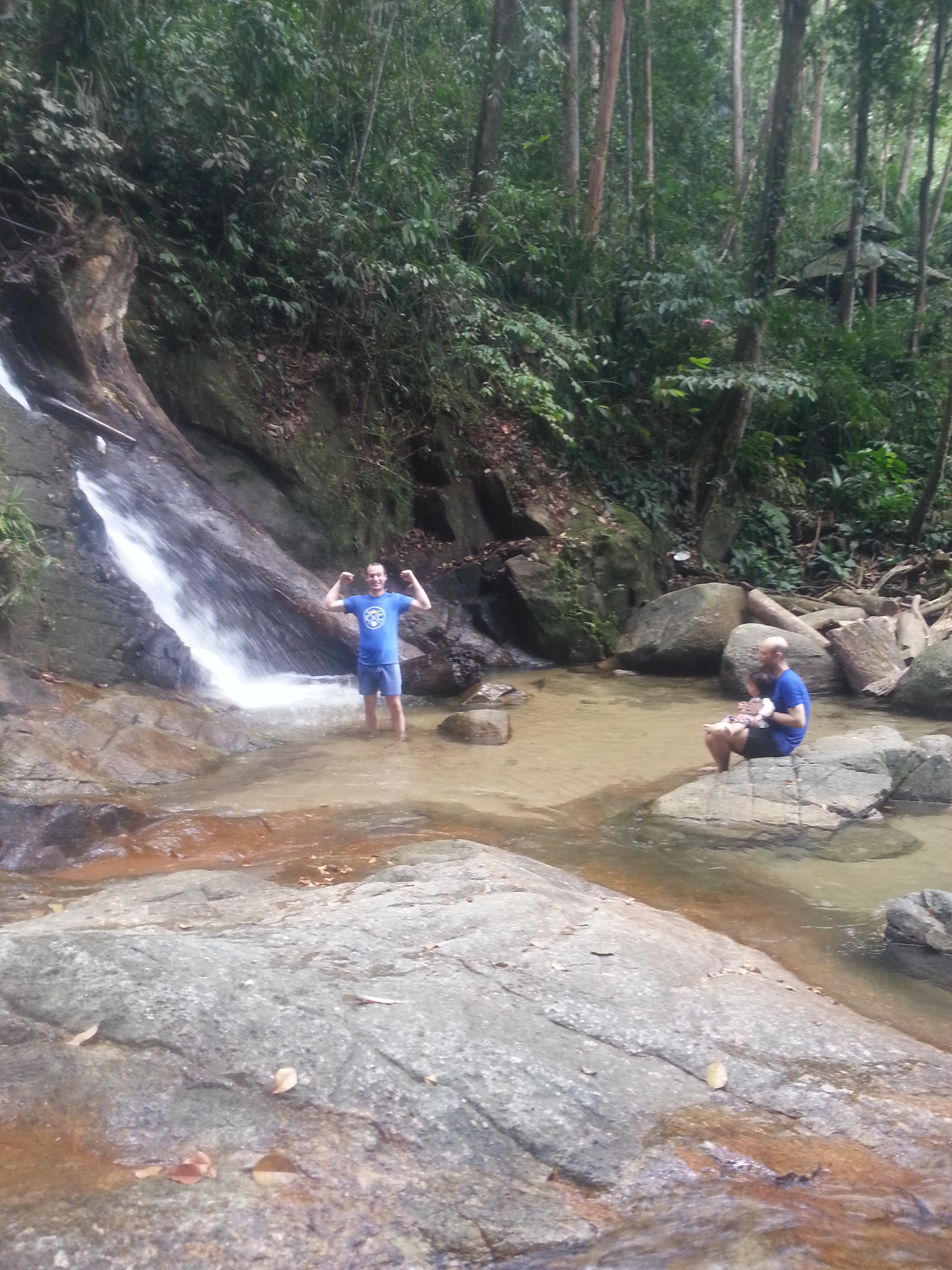 They brought their almost 2 year old daughter Sara, and we took turns carrying her up the stairs. She wasn't sure what to think of the cold water but she loved the food later (a future foodie in the making). Because afterwards, they insisted on buying us a late lunch to have us try a couple local dishes, and introduced us to young coconuts (you pick a coconut before it's totally ripe, hack the top off with a machete and drink the water inside with a straw). An acquired taste but really refreshing especially on a hot day. Then a couple days later, Henrietta wanted to make us dinner. She seemed nervous that we might like it, but it was by far the best thing I'd eaten here. It was so simple yet so good. Also, homemade naan?? Yum!!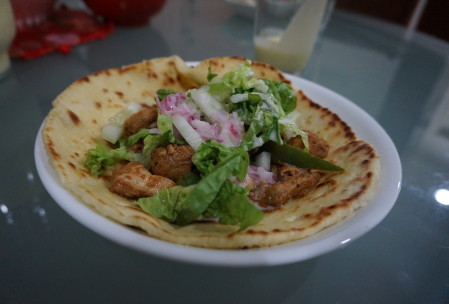 Don't get me wrong, we like the local food – well, most of it – and we love Indian and Thai food which are here in abundance. But this was so well made, and I managed to get the recipe from here so I'll post it here at the end. They've been so kind and generous to us by going well above and beyond what is expected of an AirBnb host. We really appreciate how they've enhanced our experience of Malaysia so far.
Tonight Matt took me on a date and agreed to let me pick the place, even though it's far from his favorite: Papa John's. Yeah yeah, I know, I'm surrounded by all this amazing food. But when you've eaten nothing but Asian food for 3 weeks, you start to want a little variety, and I was *really* jonesing for some pizza. I knew this was the safest way to get decent pizza that reminded me of some from the States, since often times here people will try to reproduce Western foods to less than enticing results. i.e.  putting corn, mayo, and all kinds of odd ingredients on top of a pita and claiming it's pizza. And then charging $15.
The funny part is, Papa John's is a sit down fancy establishment here. They seat you and then hand you a menu.
There's a set you can order that includes a Caesar salad, pizza, and cheesy potato wedges that kind of remind me of Arby's curly fries in a good way. Waiters bring out your food in courses. And in true Western fashion, you get a bottomless soda, but it's in a small cup. The pizza was pretty true to what we have at home, but we had a Mexican Ole pizza, because Matt wanted something with jalapenos. And guess what? It had corn on it. Haha. Of course.
—-
Henrietta's take on chicken shawarma, served with naan
Boneless skinless chicken thighs, cut into small cubes
Marinade:
yogurt
lemon juice
cumin powder
coriander powder
chili powder (from Asian grocery is best)
black pepper
salt
Marinate the chicken in this at least one hour.
Vegetables:
Bell pepper (All colours can be used)
fresh leaves of lettuce, torn into bite sized pieces
cucumber, peeled and thinly sliced
White sauce:
3 spoons mayonnaise
lemon juice
salt
diced red onion
Stir in a little water to thin out as necessary.
Cooking :
Stir fry the marinated chicken in oil until the liquid is all gone.
add the bell pepper and cook it for another 5 minutes.
Naan:
Self raising flour
yogurt
fresh milk
mix it and make dough
then leave it for few hours.
similar to this recipe: http://cooking.nytimes.com/recipes/1017747-meera-sodhas-naan
Categories: Malaysia