Wild game recipes
We are still on the alpaca farm here in Hawkes Bay and will be until the end of June. As I mentioned in my last post, there is a lot of free time even with our farm responsibilities, so Matt has been working extra and I've been focusing on some cooking projects. I finally made a meal with the wild turkey that Matt shot last week! I had minced the breast meat in the meat grinder we have here, and froze the legs for another time. I'll likely just end up braising them slowly to soften them up. Or roast them, but they aren't quite as impressive as the turkey legs you see at the Renaissance Fair. These are free range organic turkeys so they're about the size of chickens once you get past all the feathers.  He's shot five of the six that were roaming on our property, and it appears that the last one is still choosing to stick around. For now.
Well, I was so happy to find out that it tasted just like normal turkey. Nothing weird. It's a leaner meat of course but good in the right context, so I've shared my recipe below for turkey cottage pie. Cottage pie is a bit different than shepherd's pie but a similar concept. We find that we like it better than shepherd's pie, in fact.
Our friend Aaron has parents who live here in Hawkes Bay. They were kind enough to invite us over for dinner, where Matt had them cracking up at his antics hunting the turkeys. Arnold, Aaron's dad, mentioned that they have quite a few rabbits on their adjacent apple orchard (we were sent home with a huge bag of apples that I've been baking from all week). I've only had rabbit once, in France, and it tasted a little gamey and, well, meh. But I have appreciated getting meat for free and the process that it takes to get meat from a field to your dinner table, so when he offered to shoot one next time he saw it, we said yes. I picked one up on Monday from his house after he called me, saying he'd gotten one for me.
There was the rabbit, all soft and cute, but rather than my expected response which was shocked empathy, I was excited with all the cooking possibilities! Matt looked up (of course) yet another YouTube video and seemed like a pro in the skinning process, where he tied little Peter Cottontail's hind legs to the fence, made a couple incisions and ripped his skin backwards, up over his head, like it was a sweater. It was crazy. After little Peter was cut open and cleaned, I ended up brining him for four hours, then braising him in red wine with chicken stock and vegetables and serving over creamy polenta with brown butter and crispy sage. The flavor was phenomenal. The texture of the meat is a little more meaty than chicken but otherwise very reminiscent of it, and a little stringier and tougher so next time I'll brine for a full 24 hours and braise for at least another 30 minutes. You could make this recipe with chicken or duck pieces as well (bone in, skin on). It was a delight! I found a French recipe using dijon mustard, whole grain mustard and cream to braise the rabbit in. If Arnold can get one of Peter's cousins I'll have to try that 😀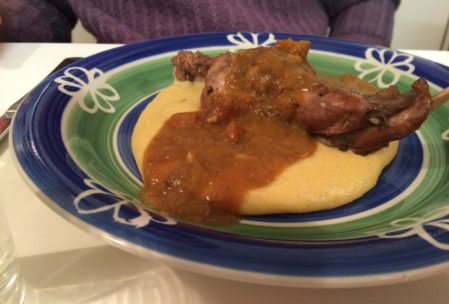 If this all sounds barbaric or strange, I don't quite recognize myself, but what I am seeing for the first time is how separated we are normally from our food, and how much effort it is to put it on table. (Although, the more I think of it, the more I realize I have long had a grim fascination with cooking increasingly more unusual animals and would even go so far as to name them on the car ride home). I definitely have a new appreciation for all of the people in the supply chain, as well as knowing where it comes from. It's going to be a bit of a disappointment going back to a world where all of our food comes from the grocery store.
Wild turkey cottage pie
very closely followed from BBC Good Food, except I've converted it from metric for you American cooks and reduced the amount of Worcestershire to a reasonable proportion. Honestly this makes a ton so unless you have a huge crowd to feed or want to freeze a pan you can easily halve this and make it in a single casserole dish. Regardless, the gravy it makes is delicious and it is worth your time to prepare it.
3 tbsp olive oil
2.5 lb ground turkey (or ground beef)
2 onions, finely chopped
3 carrots, chopped
3 celery sticks, chopped
2 garlic clove, finely chopped
3 tbsp flour
1 tbsp tomato paste
large glass red wine (optional)
1 qt beef stock
2 Tbsp Worcestershire sauce
few thyme sprigs
2 bay leaves
for the mash:
4 lb potatoes, chopped
1 cup milk
2 Tbsp butter
8 oz sharp cheddar, grated
Heat 1 tbsp oil in a large saucepan and fry the ground turkey until browned – you may need to do this in batches. Set aside as it browns. Put the rest of the oil into the pan, add the vegetables and cook on a gentle heat until soft, about 20 mins.
Add the garlic, flour and tomato paste, increase the heat and cook for a few mins, then return the beef to the pan. Pour over the wine, if using, and boil to reduce it slightly before adding the stock, Worcestershire sauce and herbs. Bring to a simmer and cook, uncovered, for 45 mins. By this time the gravy should be thick and coating the meat. Check after about 30 mins – if a lot of liquid remains, increase the heat slightly to reduce the gravy a little. Season well, then discard the bay leaves and thyme stalks.
Meanwhile, make the mash. In a large saucepan, cover the potatoes in salted cold water, bring to the boil and simmer until tender. Drain well, then allow to steam-dry for a few mins. Mash well with the milk, butter, and half of the cheese, then season with some salt and pepper.
Spoon meat into 2 ovenproof dishes. Drop spoonfuls of the mash to cover and spread it around. Sprinkle on the remaining cheese. If eating straight away, heat oven to 400 F and cook for 25-30 mins, or until the topping is golden. The golden-er the better. Or freeze it.
Red wine braised rabbit with brown butter sage polenta
Initially taken from this Epicurious recipe but I've modified it enough that it made sense to list out my own version.
Brine:
Heat up 4 cups water, 1 cup apple cider vinegar, 3 Tbsp salt, 3 Tbsp brown sugar, 1 tsp dried rosemary or thyme, 2 cloves garlic, bay leaf, and ground pepper until sugar and salt are dissolved. Let cool and pour over rabbit. Leave in refrigerator for 4 – 24 hours. From Chowhound
If whole, cut rabbit into pieces per guide in Saveur
2 tablespoons all-purpose flour
1 teaspoon salt
a 2 1/2- to 3-pound rabbit, thawed if frozen, cut into 7 or 8 serving pieces and patted dry
3 tablespoons olive oil
2 medium onions, chopped
1 large carrot, chopped
4 garlic cloves, minced
1 tsp dried thyme
1 cup chicken broth
1 cup dry red wine
1 bay leaf
For yummy polenta:
2 cups water
2 cups milk
1 cup cornmeal/polenta
2 tablespoon butter
2 tablespoon minced fresh sage leaves
1/4 cup grated aged Parmesan (optional)
salt to taste
PREPARATION
In a large bowl stir together flour and salt. Add rabbit and toss to coat.
In a heavy dutch oven, heat 2 tablespoons oil over moderately high heat until hot but not smoking and brown rabbit in batches, transferring pieces to a bowl.
Add onion, carrot and remaining tablespoon oil to dutch oven and sauté, stirring occasionally, until softened and starting to brown, at least 10 – 15 minutes. Stir in garlic and thyme and sauté, stirring, 1 minute. Add broth, wine, bay leaf and rabbit with any juices accumulated in bowl and simmer, covered, at least 60 – 90 minutes, or until rabbit is tender. Remove lid and cook down until sauce is slightly thickened. Discard bay leaf. If desired, remove rabbit and use an immersion blender to partially blend the sauce to thicken further.
Meanwhile, bring water and milk to a boil, stirring occasionally. Slowly whisk in cornmeal and stir occasionally for 15-20 minutes or until the polenta is cooked and thickened but still pourable. Remove from heat. Heat up butter in a small skillet over medium heat until it starts to brown and smell nutty. Add fresh sage leaves and saute, stirring for about two minutes until they get crispy but not at all burnt. Whisk butter and sage into polenta, along with cheese if desired. Salt to taste.
Serve rabbit and sauce over polenta.
Categories: New Zealand